The best of a comforting bowl of chicken soup combined with the best of a casserole: that's how we describe this chicken casserole. When you taste this you automatically think: why did this dish not belong to my standard repertoire before?
Ingredients
For 6 to 8 people
500 grams egg noodles

2 carrots, in small pieces

1 leek, thinly sliced

1 large yellow onion, finely chopped

4 teaspoons unsalted butter

60 grams of flour

2 teaspoons thyme

1 tablespoon parsley

2 teaspoons garlic powder

1.5 teaspoon sea salt

750 ml chicken stock

250 ml milk

1 large chicken fillet, cut into strips

250 grams of frozen garden peas

2 balls of mozzarella, cut into small pieces

180 grams Cheddar cheese

200 grams Parmesan

Olive oil
We bet that even the pickiest eaters ( pointing at you, children ) will find this casserole divine. With juicy pieces of chicken, a nice bite due to the carrot and peas, a creamy stock sauce and pieces of Cheddar, it is almost impossible to do otherwise.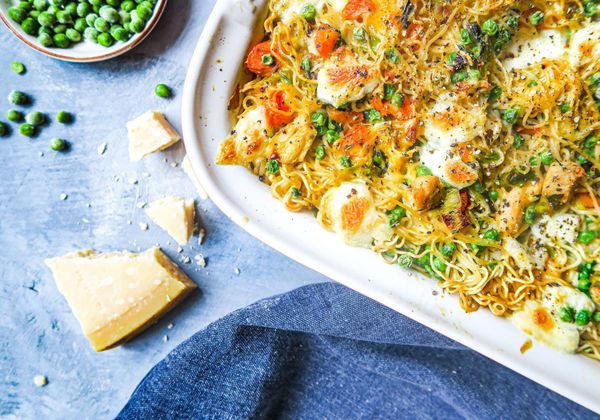 This is how you make the casserole with chicken
Preheat the oven to 180 degrees.
Bring a large pot of water to the boil and cook the egg noodles according to the package. Drain the noodles and set aside.
Then fry the chicken strips briefly in a pan with a dash of oil. Once they are golden brown, remove the chicken strips from the pan and set them aside.
In the same pan, add some more oil and turn the heat to medium heat. Add the leeks, onions and carrots. Fry until the carrots are soft.
Now add the butter, flour, thyme and parsley and fry for another 2 minutes. Then add the garlic powder, onion powder, salt, chicken stock and milk. Bring to a boil and stir until sauce has thickened, about 3-5 minutes.
Remove the pan from the heat and stir in the egg noodles, chicken pieces, peas, 1 ball of mozzarella, Cheddar and Parmesan. Pour the mixture into a large baking dish and stir again with two forks. Arrange the remaining mozzarella pieces on top of the mixture.
Bake for 20 minutes in the preheated oven and then turn the oven to the grill setting for another 5 minutes. As soon as the mozzarella turns golden brown on top , the oven dish is ready.
More oven dishes?
Rigatoni Al Forno (easy pasta casserole)

Bobotie: South African casserole with minced meat and a turmeric custard

Hot lightning casserole with minced meat and apple