We copied the principle of preparing rice from the oven at Ottolenghi . But instead of taking over the signature touch of the cooking god (read: pomegranate, mint, feta), we came up with our own variation. A spicy saffron rice with cherry tomatoes, chorizo ​​and spinach .
Ingredients
For 4 persons
4 garlic cloves, finely chopped

4 shallots, thinly sliced

30 grams coriander, finely chopped

800 grams of tomatoes

2 cinnamon sticks

100 ml olive oil

300 grams basmati rice

600 grams of boiling water

Salt & black pepper

2 large handfuls of spinach

Juice of half an orange

0.10 grams of saffron

1.5 tsp turmeric

1 teaspoon cumin powder

1 teaspoon ras el hanout

1 tablespoon coarse sea salt

1 teaspoon cardamom

1 chorizo, sliced
For the yogurt dressing
4 tablespoons Greek yogurt

2 teaspoons olive oil

1 teaspoon coarse sea salt
Once you realize how easy it is to cook rice in the oven, chances are you'll never want to go anywhere else. You don't have to worry about boiling over pans and caked rice bottoms: while the rice is cooking in the oven, you can enjoy a glass of wine with your mind at zero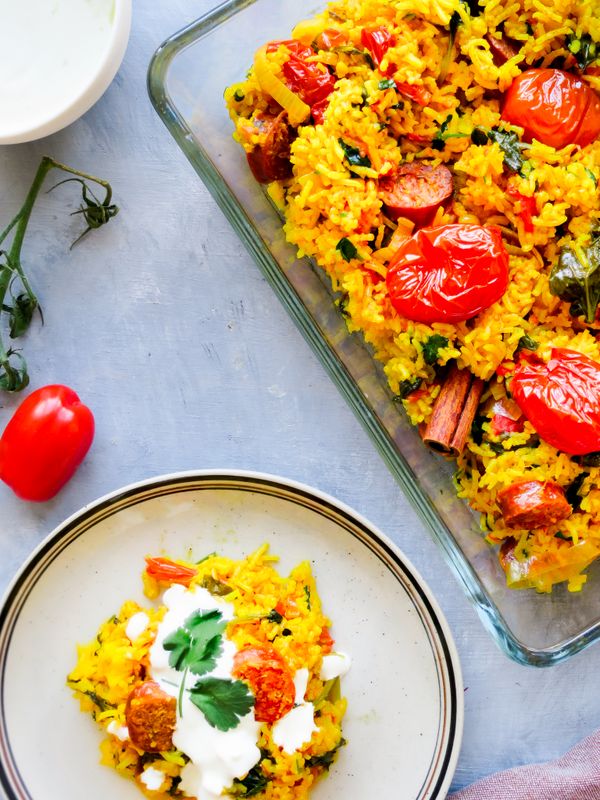 This is how you make the rice from the oven with chorizo, tomatoes and spinach
Preheat the oven to 160 degrees and have a roasting tray or baking dish of 20 by 30 cm ready.
Divide the cherry tomatoes, chorizo ​​pieces, garlic, shallot and cinnamon sticks over the roasting pan. Drizzle over the olive oil and sprinkle with a 1 teaspoon salt and freshly ground black pepper. Then put in the oven for 1 hour.
Meanwhile, put the rice in a large bowl with a tablespoon of water and the saffron, turmeric, cumin, ras el hanout, sea salt and cardamom. Squeeze in half the orange and stir to combine.
Meanwhile, you can also make the yogurt dressing. Put all the ingredients in a bowl and stir with a tablespoon.
Remove the baking dish from the oven and increase the temperature to 220 degrees.
Cover the contents of the bowl with the spinach, then sprinkle the rice evenly over the vegetables (don't stir!) and sprinkle with another ½ teaspoon of salt and freshly ground black pepper.
Pour over everything with the boiled water. Now cover the roasting tray carefully with aluminum foil and make sure that no steam can escape, otherwise the rice will not cook properly. If necessary, use a few sheets of foil to cover it better.
Return to the oven for 25 minutes.
Remove from oven and let stand covered for 10 minutes. Then remove the foil. Sprinkle the rice with the finely chopped coriander and gently fold it into the rice and vegetables. Serve with a spoonful of the yogurt dressing and some extra coriander leaves, if desired..
More with rice?
Fried rice with instant noodles (trend in Japan)

Japanese rice bowl for breakfast with scrambled eggs and nori

Poké rice cakes with fresh tuna and sriracha mayonnaise