Too exhausted to cook but hungry? This simple pasta with green asparagus, crispy fried prosciutto and tarragon is what you need. Within fifteen minutes you have instant pasta satisfaction !
Ingredients
For 4 persons:
400 grams tagliatelle

350 grams of green asparagus

90 grams of prosciutto

Large hand of fresh tarragon, finely chopped

150 grams Parmesan cheese, grated

1 lemon, grated zest and juice

Olive oil

Salt pepper
We think the great thing about pasta recipes is that you often only need a few ingredients and that they are so simple (read: ready quickly, few dishes). This pasta with green asparagus recipe is a perfect example.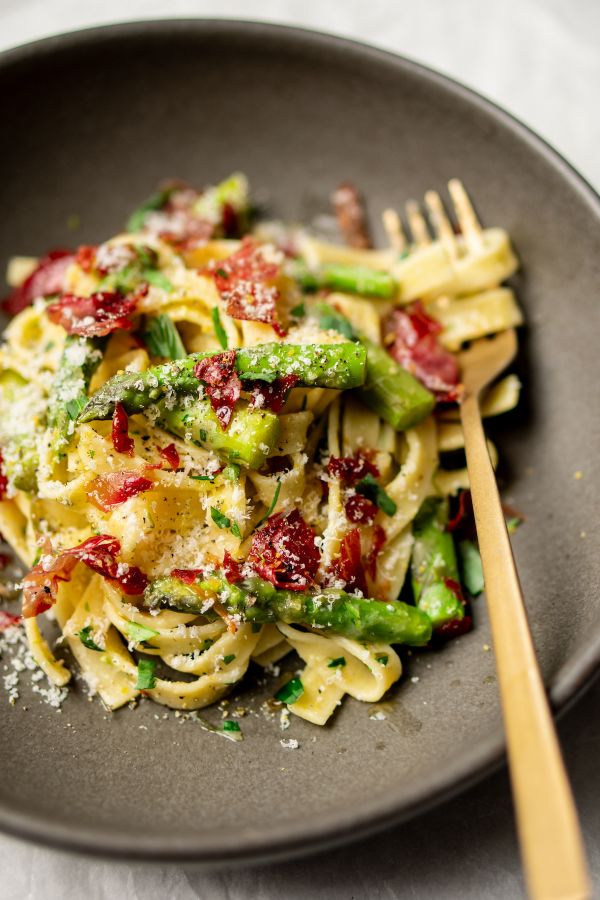 Pasta with green asparagus
Cut off the hard ends of the asparagus (about 2 cm from the ends) and cut the asparagus into pieces.
Bake the slices of prosciutto in a dry frying pan until crisp. Let them drain on kitchen paper.
Put a pan of boiling water on for the pasta. Add some salt and add the tagliatelle. Follow the instructions on the package for the cooking time and add the asparagus pieces 2 minutes before the end of the cooking time.
Drain the pasta, but keep about 200 ml of the cooking liquid. Return the pasta to the pan and sprinkle with three quarters of the Parmesan cheese. Add some of the cooking liquid and pull the pasta through with tongs to create a creamy layer.
Mix in the tarragon and season with the grated lemon zest, a squeeze of lemon juice and some black pepper.
Spoon the pasta with green asparagus on the plates and divide the crispy baked prosciutto over it. Finally, sprinkle with the rest of the Parmesan and attack.
More simple pasta recipes:
12 x tasty pasta recipes for every day of the week

12 x healthy pasta recipes to 'mamma mia!' to say to

9 x pasta recipes that are on the table in fifteen minutes