Serve your salad a little differently with this recipe for baby romaine lettuce with pistachio dressing. You want to slide in the creamy dressing, spoonfuls at a time. The original recipe comes from the hip restaurant Wildair in New York, where we once sat down for great contemporary dishes.
Ingredients
For 4 persons:
4 heads baby romaine lettuce (little gem)

100 grams of unroasted pistachios

200 grams soft butter, unsalted

1 egg yolk

Small bunch of chives, finely chopped

Small bunch of tarragon, finely chopped

Small bunch of dill, finely chopped

1 lemon

Olive oil, to taste

Salt pepper
At Wildair , they often get the question whether there is avocado hidden in that dressing. The answer is no: by frying the outer leaves of the heads of baby romaine briefly in butter, and grinding those with butter and all, an egg yolk and pistachios in a blender, you get a buttery, creamy pistachio dressing.
For this salad, you leave the heads of baby romaine whole, so you can basically eat them right away. And be honest: have you ever seen such an elegant salad?
> Also interesting: The shelf life of lettuce: which lettuce stays fresh the longest in the fridge?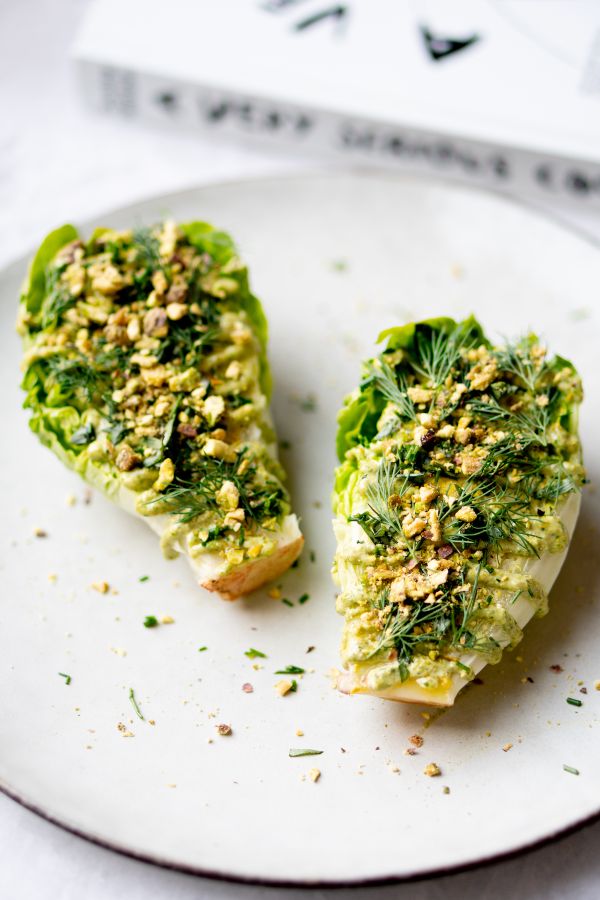 Lettuce with pistachio dressing
Chop 60 grams of the pistachios finely in a mortar or with a knife.
Cut the heads of baby romaine in half lengthwise. Remove the outer leaves and keep them.
Melt the butter in a large frying pan and fry the removed lettuce leaves with a pinch of salt in the warm butter for about a minute, until they have wilted slightly.
Put them in a blender or food processor. Also add the butter from the pan, 40 grams of the pistachios and the egg yolk. Blend into a creamy pistachio dressing. Add a little more salt if needed, to taste.
In a small bowl, whisk together some lemon juice with some olive oil until you have a nice dressing. Season with salt and pepper.
Dress the heads of baby romaine lettuce to taste with the lemon dressing and place two halves on each plate. Spread the pistachio dressing over it. Tip: This goes very well in a squeeze bottle, such as an empty ketchup bottle, but you can also just spoon it on.
Finally, sprinkle the lettuce with the reserved pistachios and the fresh herbs.