Awhole new world opened up to us when we tasted Reese's peanut butter cups a few years ago. At the time, you could hardly find them in the Netherlands, but now you see them more and more. But what's even more fun? Just make them yourself.
Ingredients
For 20 to 30 peanut butter cups
50ml water

7.5 tablespoons sugar

3 tablespoons maple syrup

1.5 tablespoons butter (plus extra for greasing the baking dish)

5 tablespoons roasted peanuts

10.5 tablespoons of creamy peanut butter

1 tablespoon vanilla powder

2 tablespoons peanut oil (or sunflower oil)

600 grams of chocolate (dark or milk)

1 tablespoon coarse sea salt
Additional
Large oven dish (e.g. of 30 x 40 cm)

At least 20 cupcake cases
If you want really good peanut butter cups, you have to take the time to get the filling right. But once you have the filling, it's a matter of filling cupcake tins with a layer of melted chocolate, a layer of the filling and another layer of chocolate. Easy as that !
Also good to know: if you have leftovers from the filling, you can simply freeze it and make a second batch of peanut butter cups later.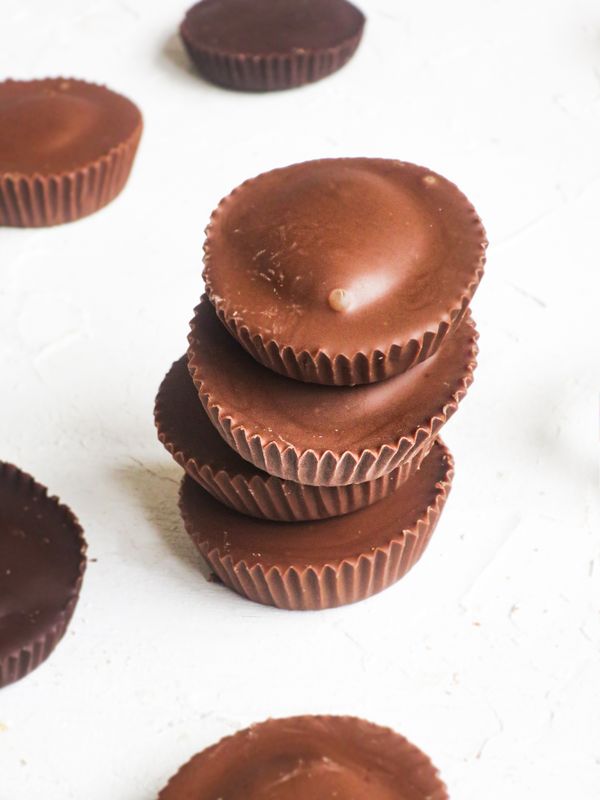 This is how you make peanut butter cups
Grease a baking dish (e.g. 30 or 40 cm) with some butter and set aside.
Place the water, sugar, maple syrup and butter in a medium saucepan. Turn the heat to medium and stir gently with a spatula until the sugar has dissolved. Stop stirring once the mixture begins to bubble. Let it bubble over low-medium heat until the mixture is a light golden color (if you have a candy thermometer, cook to 150 degrees).
Turn off the heat and stir in the peanuts with a spatula. Pour the mixture into the baking tin and spread it over the entire surface of the baking dish with a spatula.
Let this mixture cool completely. Then remove the mixture from the baking tin (with a spatula or kitchen knife) and cut into coarse pieces.
Put the coarse pieces in a bowl and mix with a stick blender to a paste.
Also add the peanut butter, vanilla, sea salt and oil and keep mixing until you have a homogeneous paste.
Now melt the chocolate au bain marie.
Prepare a baking tray and the cupcake cases and spoon a tablespoon of the melted chocolate into each mould. Then make flat slices of the peanut butter mixture (take a teaspoon of the mixture each time and then use your fingers to flatten it into a disk) and place the slices in the chocolate bottoms. Finish with another tablespoon of the chocolate.
Place in the fridge for at least 30 minutes. Store in the refrigerator.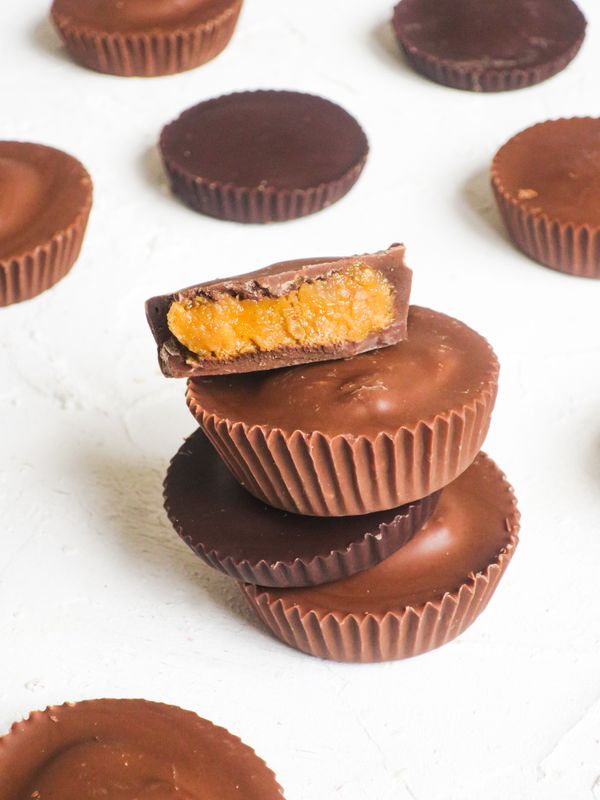 More recipes with chocolate
Peanut butter cookies with pieces of chocolate

Chocolate truffles with soy sauce from Kikkoman

Chocolate cake with crème frache frosting