You don't really need a lot to put a tasty pasta on the table. Usually it's a matter of the right ingredients and… a rock-solid recipe. We offer this recipe with a lot of Italian love. This is how you make the most delicious pasta shells with tomato sauce, olives, capers and breadcrumbs.
Ingredients
For 4 persons
350 grams dried pasta shells

4 tablespoons Castellino Taggia olives, drained

100 grams capers, drained

3 slices of stale bread
For the tomato sauce:
1/2 onion, finely chopped

2 garlic cloves, finely chopped

1 tablespoon olive oil

2 cans of 

San Marzano tomatoes

 (425 ml)

Salt pepper

1 teaspoon sugar

Optional: your favorite herbs (e.g. rosemary, oregano, basil and/or chili pepper), to taste

Optional: splash of red wine
You can make the tomato sauce as complex or simple as you want. With a can of San Marzano tomatoes you can come a long way, but if you like deeper flavors you can add herbs to your heart's content (think rosemary, oregano, thyme and/or chili pepper) and/or spices. Still have an opened bottle of red wine? Adding a splash of red wine to the sauce adds depth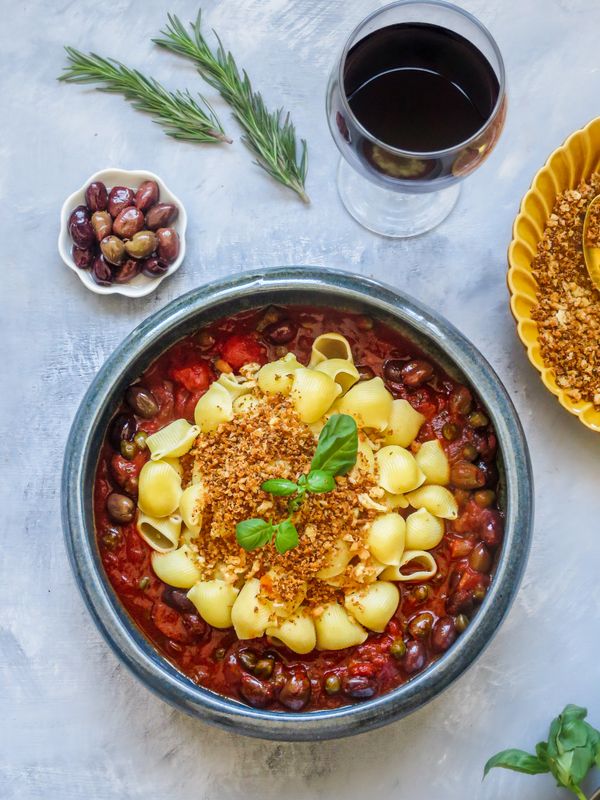 This is how you make the pasta shells with tomato sauce, capers and olives
Tear the bread into pieces, grind them fine in a food processor and fry them with a little olive oil and a pinch of salt to a golden brown breadcrumb. Set aside.
Saute the garlic and onions in a layer of olive oil. Add the San Marzano tomatoes and (and optionally a dash of red wine) and season with salt, pepper and sugar.
Add additional herbs and/or spices as desired. Also add the olives and capers to the sauce and let it simmer over a low heat.
Meanwhile, cook the conchiglie (pasta shells) according to the package. Drain and add to the tomato sauce. Stir the pasta shells into the tomato sauce so that the shells can absorb the flavors well.
Serve in deep plates and finish with a generous scoop of breadcrumbs.
More pasta 
love
Pasta is a lifestyle! 6 x recipes with penne

gnocchi with sausage, hazelnut, spinach and rosemary

Tagliatelle with Italian sausage and caramelized tomatoes