Tired of iced coffee? Then we would like to introduce this iced matcha latte with coconut milk to you. Our (easy!) go-to drink for when we could use a cool pick-me-up.
Ingredients
For 1 drink:
2 teaspoons matcha

175 ml milk (or vegetable milk)

125 ml coconut milk

1/4 teaspoon vanilla extract

1/2 teaspoon agave syrup

Pinch of salt

Handful of ice cubes
Also needed:
Cocktail shaker (or a blender)
Matcha has already penetrated the Dutch food world quite nicely in recent years. Think of the rise of matcha hotspots such as Matcha Bar in Amsterdam and the launch of the KitKat matcha . The matcha latte is also an example of this: many coffee bars now have the drink on the menu.
An iced matcha latte is – duh – the chilled version of the matcha latte, with lots of ice. Ideal for a change from iced coffee. We especially like it with a good splash of coconut milk. That goes brilliantly with matcha.
> Also interesting:  5 delicious dishes with matcha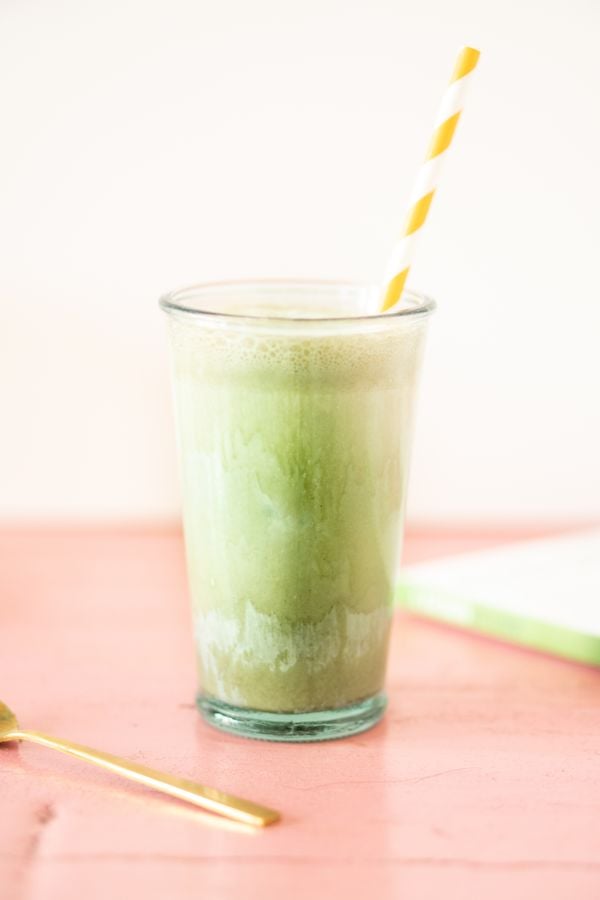 Iced matcha latte with coconut milk
We prefer to make this iced matcha latte in a cocktail shaker, but it is also possible in a blender.
Combine all ingredients except coconut milk (tip: if you're using the blender, keep some of the ice for later in the glass).
Shake vigorously in the cocktail shaker until the outside of the shaker is fogged and you see a thick foam layer on the matcha latte.
Pour the coconut milk into the glass and then slowly pour the iced matcha latte on top – including the ice – to create a marbled effect. After all, we drink with our eyes, don't we?
More recipes with matcha:
Lime pie matcha smoothie

chocolate strawberries with matcha

matcha tiramisu