This white cabbage, kale and bacon stew is perfect for days when you want to spend all day on the couch in your pajamas. You know: those days like Christmas Day, when so much has been cooked and eaten that you just want a comforting mash. Without too much hassle.
Ingredients
For 4 persons:
1 kilo of floury potatoes

3 large handfuls of kale

2 large handfuls of white cabbage (or other cabbage)

4 slices of bacon + the fat

3 cloves of garlic

120 ml milk

60 ml cream

2 teaspoons chives, finely chopped

A knob of butter

Salt pepper
We recommend that you use kale in any case: we bake it – unlike with stew kale – first in a little bit of bacon fat. Then it goes through the mashed potatoes. We also added some white cabbage, but you can also use pointed cabbage or other types of cabbage.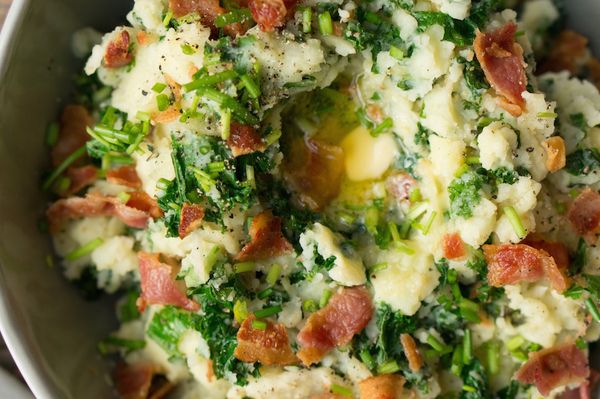 How to make this stew:
Peel the potatoes and put them in a large pot of water. Crush the garlic cloves and add those too. Cook the potatoes until a knife slides through easily.
While the potatoes are cooking, you can fry the bacon until crisp. Remove the slices from the pan and drain on kitchen paper. Do not throw away the fat from the pan, but use it to fry the cabbage.
Drain the potatoes and return them to the pan. Add the milk and cream and bring to the boil. Then mash the potatoes with a potato masher to a nice puree. Then add the cabbage and mix together. Add some more salt and pepper if needed.
Crumble the bacon over the stew. Serve with a knob of butter and some chopped chives.