With this mulled wine cheesecake you put a real show pony on the table, especially if you let yourself go with the decoration. Perfect for dessert after your Christmas dinner while enjoying… a glass of mulled wine, of course.
Ingredients
For 1 cheesecake:
For the bottom:
125 grams unsalted butter, melted
400 grams speculaas, ground
For the filling:
3 eggs
1 pinch of salt
120 grams of sugar
1 tablespoon lemon juice
500 grams of cottage cheese
50 grams of fresh whipped cream
30 grams of melted butter
For the mulled wine glaze:
200 grams of powdered sugar
2 tablespoons mulled wine (+ extra)
We found the toppings on this mulled wine cheesecake at Albert Heijn, from Cake Angels . We arranged some fresh cranberries and a few sprigs of rosemary in between and sifted icing sugar over it.
But you can also make your own topping from chocolate flakes, berries, cookie crumbs, and so on. Have a good time.
Oh, and did you make this mulled wine cheesecake? Take a picture of it, share it on your stories (or your Insta-grid) with #culyhomemade  and  @culynl  and we'll share your picture via our  Instagram account !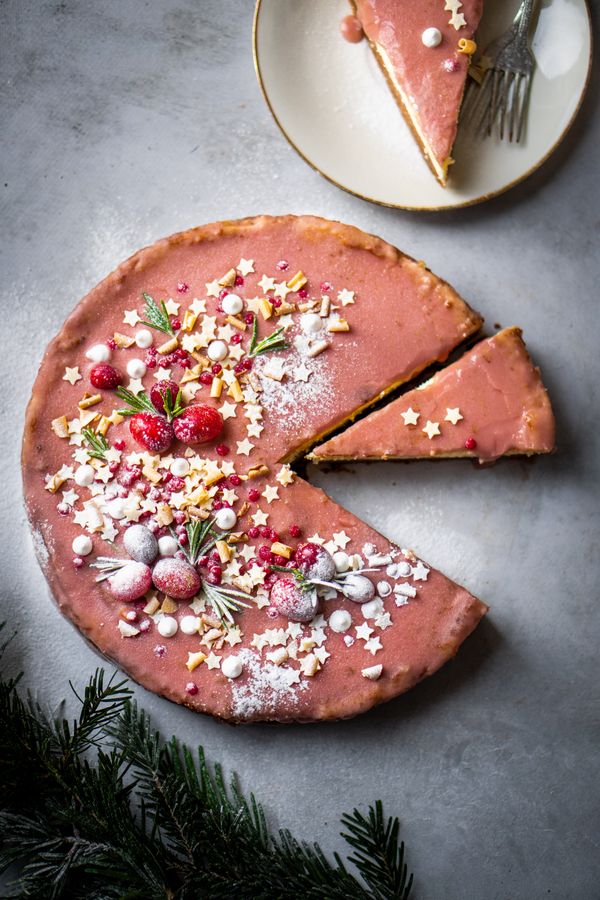 This is how you make the mulled wine cheesecake
Preheat the oven to 175 degrees. Grease a round springform pan.
Mix the melted butter with the ground speculaas in a bowl. Pour the contents of the bowl into the springform pan, spread evenly over the surface and press down well. Put in the fridge.
Separate the 3 eggs into two separate bowls. Take your electric hand mixer and beat the egg whites together with a pinch of salt to stiff peaks. Beat the egg yolks with the sugar and lemon juice until foamy.
Stir the cottage cheese, cream and melted butter into the egg yolks. Gently fold in the egg whites (don't apply pressure!). Remove your pie crust from the fridge and divide the contents of the bowl over the bottom.
Bake in the center of the oven for about 55 minutes. Turn off the oven but leave the cake in the oven for another 5 minutes. Remove the cake and let it cool completely (for example, overnight in the fridge).
Make the glaze. To do this, put 200 grams of powdered sugar in a bowl and add 2 tablespoons of mulled wine. Stir with a spoon. Gradually pour splashes of mulled wine into the icing sugar (and keep stirring) until you have a nice glaze. Make sure it flows smoothly from the bowl, but don't make it too liquid.
Tip: Before pouring the glaze on the cheesecake, it can help to cut off the raised edges with a sharp knife. That way the icing can drip nicely from the edge.
Pour the glaze over the cheesecake, spread with a spatula if necessary and decorate to your own taste.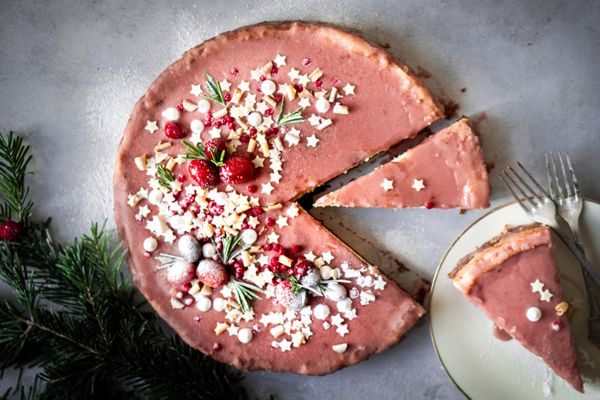 More Christmas recipes?
Pointed cabbage rôti with beurre rouge: a vegetarian Christmas recipe by Alain Caron
pork roulade with apples, cider & baked potatoes
 Christmas hummus with persimmons and pomegranate