Fish is salt crust is always a bit of a small spectacle, don't you think? Still, it's quite an easy job (and especially fun to do!). With this quick fish in salt crust, we serve a colorful salad with fennel, mandarin and black olive. So good!
Ingredients
For 2 people
1 full dorado, guts removed

Salt pepper

1 kilo coarse sea salt (yes really, that much!)

2 egg whites

juice of 1/2 lemon
For the spice package:
1 bunch of tarragon

1 bunch of dill

1 bunch of parsley

2 cloves

A few balls of allspice

1 lemon slice, quartered
For the salad:
50 ml olive oil

20 ml maple syrup

50 ml freshly squeezed orange juice

1 teaspoon mustard

1 fennel, thinly sliced

50 grams arugula

2 tablespoons black olives

1 tangerine, sliced
The ultimate magic is in the moment when you cut into the salt crust. The salt crust then comes off in large pieces. What remains is a wonderfully juicy fish full of flavour.
It is best to buy such a whole fish at the fishmonger's shop or at the market. Ask for a nice piece of dorade, in its entirety. It is not necessary to remove the scales, but to remove the entrails (or ask your fishmonger if he can do that already).
Fast fish in salt crust with green salad
Preheat the oven to 200 degrees. Wash the fish well under the cold tap (also in the cavity where the entrails have been) and pat dry with a clean tea towel. Season the fish with salt and pepper.
Put the ingredients for the herb packet in a bowl and tear the green herbs into pieces with your hands. Put the herb packet in the cavity where the entrails used to be.
In a large bowl, combine the salt with the egg whites and lemon juice. Stir well.
Line a baking tray with baking paper and spoon about half of the salt onto the baking tray. Do this in a sort of oval, keeping the shape of the fish in mind. Press lightly with the back of a tablespoon.
Arrange the fish on top and spoon the rest of the salt over the fish. Press everything together well so that the salt is evenly distributed around the fish. Avoid uncovered pieces, but leave the head uncovered. Place the fish in the salt crust in the oven and bake for 20 to 25 minutes, until the crust is lightly browned.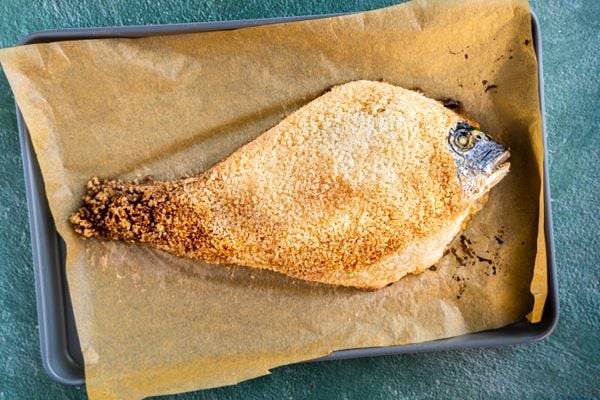 Meanwhile, make the salad. Put the first five ingredients in an oven dish, stir well and put in the oven with the fish for about 15 to 20 minutes. Divide the other ingredients in a bowl.
Remove both the fish and the fennel from the oven and add the fennel to the rest of the salad. Slice the fish with a sharp knife and divide the inner flesh between two plates. Serve the fish in salt crust with the salad.