We think it is appropriate to serve a plate of heri heri on July 1 (Keti Koti). This version with cod, cassava, plantains and napi is finger-licking good.
Ingredients
For 4 persons
500 grams of cod on the bone

150 ml coconut oil (unrefined)

1 cassava, peeled into 3 cm cubes

2 napis (purple sweet potato), halved

1 white sweet potato

1 green banana, peeled and cut into three

1 yellow banana, peeled and cut into three

1 dasi taya (taro), peeled into 3 cm cubes

1 madame-jeanette, whole
Heri heri is a dish with history. It was traditionally eaten by slaves and today symbolizes connection with the ancestors and with the history of our country. That is why it is a symbolic – but also very tasty – dish to make on Keti Koti: the day of the celebration of the abolition of slavery.
Or to put it in the words of chef Emmo Achthoven – who came up with this recipe: "To know where you are today, you have to look back and not lose sight of where it comes from."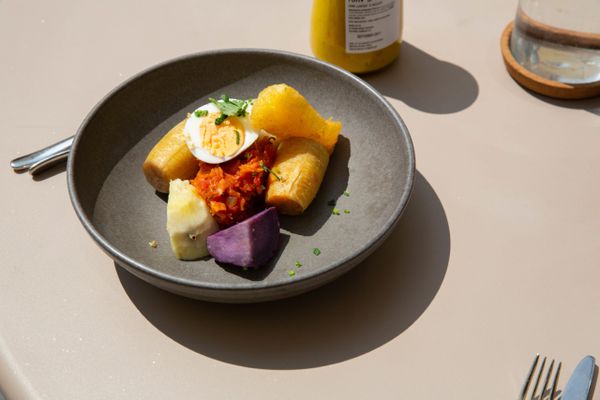 Free Heri Heri for all
Don't feel like cooking yourself? On July 1, you can enjoy a free plate of heri heri at twenty locations in the capital (including Tony's Chocolonely Chocolate Bar and RIJKS ) and other larger cities such as Almere, Rotterdam and Tilburg.
It is of course no coincidence that Tony's is behind the project. After all, they have been campaigning for a slave-free chocolate industry for years.
On July 1, 2021 between 16.00 and 19.00 everyone is welcome at one of the locations of Free Heri Heri for all . 
Heri Heric
Rinse the salt from the cod and soak it in plenty of cold water for 15 minutes.
Take fresh water and cook the cod for 20 minutes. Try the cod! Is it still too salty for your taste? Then boil fresh water again and put the cod on the stove again.
Fluff the fish and feel if you have removed all the bones.
Heat 100 milliliters of coconut oil in a large frying pan and fry the cod on medium heat for about 10 minutes until nicely browned. Then add the madame-jeanette and fry for a further 5 minutes.
Bring 1 liter of water to the boil with a little salt and cook the cassava for about 20 minutes.
Bring 2 liters of water to the boil with a little salt and cook the napi, sweet potato, dasi taya and bananas until tender. Everything is cooked when you can pierce it with a fork.
The yellow banana is the first to be cooked, after about 10 minutes, remove it from the pan and keep it aside.
The dasi taya, green banana, napi and sweet potato are done after about 15 to 20 minutes.
Keep the bananas and dasi taya warm and let the napi and sweet potato cool so you can remove the skin.
Remove the madame-jeanette by the stem or with a spoon. You can serve the pepper separately in a bowl.
To serve:
Cut the strawberries and bananas into pieces of about 1 cm.
Divide the strawberries and bananas in a circle and place the cod in the middle.
Heat the last 50 milliliters of coconut oil and pour it over the cod just before serving for a nice effect.