Fall has only just begun and we already have a favorite fall recipe: gnocchi with Grana Padano, pumpkin and chorizo. This dish is hearty, comforting, easy and above all: a real friend to everyone.
Ingredients
For 4 persons:
400 grams pumpkin, cubed

500 grams gnocchi

Olive oil

200 grams hard chorizo, cut into small cubes

300 ml fresh whipped cream

50 grams Grana Padano, finely grated (+ extra, shaved)

Few leaves of fresh sage

Salt pepper
Grana Padano is that hard Italian cheese with that delicious grainy texture. In this recipe we grate it finely first: perfect for the cream sauce with the gnocchi. Is the dish ready? Then we use a vegetable peeler to shave some extra Grana Padano over the rest of the ingredients, for finishing. After all: the more cheese, the more joie de vivre.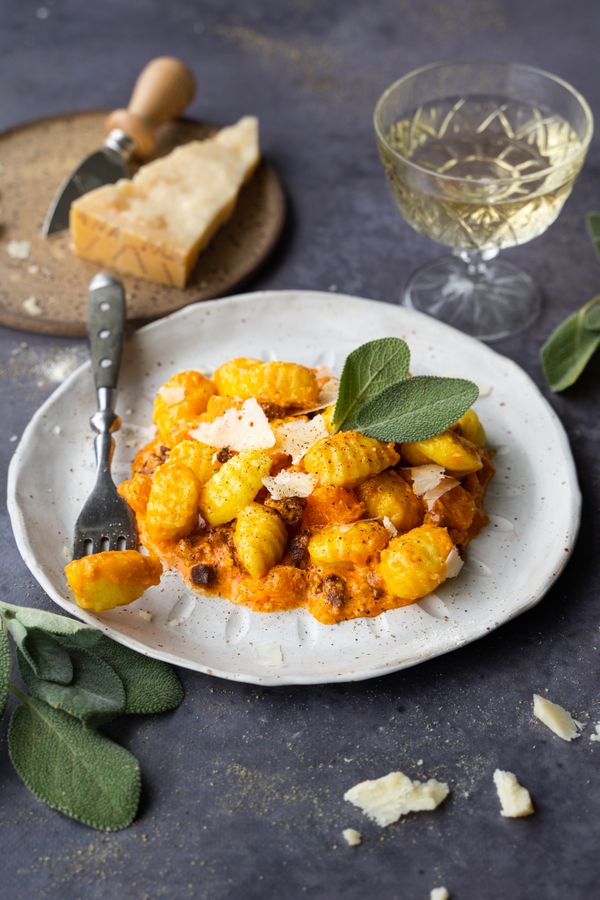 Gnocchi with Grana Padano, pumpkin and chorizo
Bring a pan with plenty of salted water to the boil and cook the pumpkin cubes until tender. Remove them from the pan and set aside, but keep the cooking water and keep it warm (you'll cook the gnocchi in this later).
Heat another pan on a different heat and fry the chorizo ​​pieces in a layer of olive oil until crispy. Add the cream and grated Grana Padano and reduce the heat. Stir well. Add the pumpkin cubes and season with salt and pepper.
In the other pan, cook the gnocchi according to the package (add more water to the pan if needed). Drain. Add the gnocchi to the other pan and stir well to allow the gnocchi to absorb the flavors.
Spoon the gnocchi into bowls and finish with extra grated Grana Padano and a few leaves of fresh sage.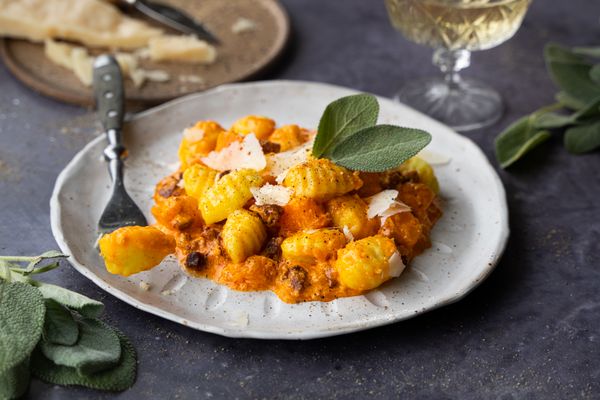 Want more easy fall recipes?
Autumn Pizza with Pumpkin, Burrata, Balsamic Onions and

Autumn hazelnut cake (the cake for autumn)

endive stew with cod and mustard sauce