Meet eggplant lasagna à la Culy! Because although there are many variations on the dish, we think it is the best this way. That is to say: with well-seasoned minced meat, finely mashed pistachios and a creamy feta cream. If that doesn't deserve a place in your regular cooking repertoire, we don't know what does…
Ingredients
For 4 persons:
3 aubergines

Big splash of olive oil

Salt pepper

1 shallot, finely chopped

2 garlic cloves, crushed

1/2 teaspoon cumin

1 teaspoon dried oregano

500 grams of minced meat

Pepper and salt

95 grams of peeled pistachios

300 grams feta, crumbled

250 ml fresh whipped cream
If you are looking for a recipe for eggplant lasagna, you will soon find Italian ingredients such as pesto and mozzarella. Nothing wrong with that of course (also nice!), but we prefer to look for it in other spheres. Well grilled slices of aubergine, cumin, pistachios, feta… Would Ottolenghi be proud of us? We hope so…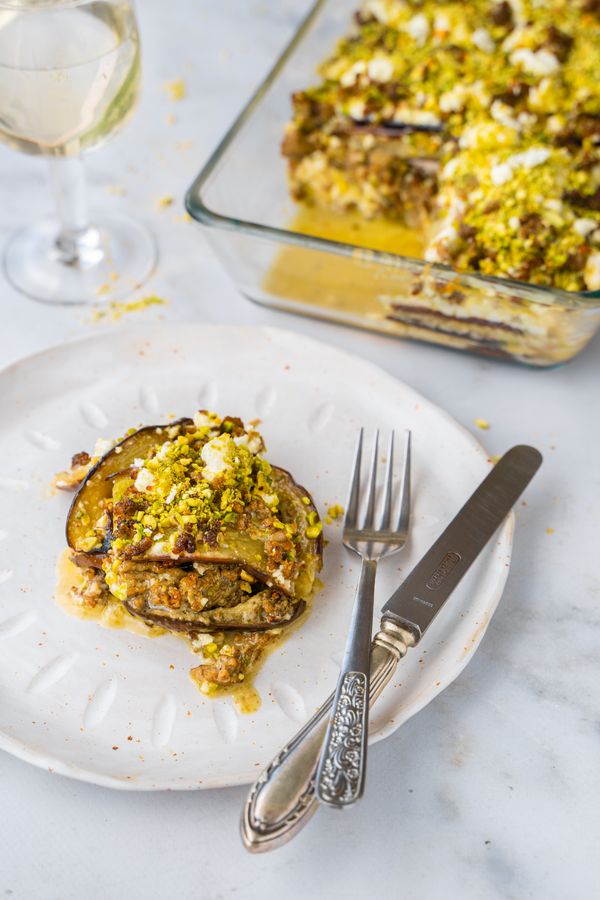 Eggplant lasagna with minced meat, feta and pistachio
Turn on the grill of your oven and line a baking tray with baking paper. Cut nice, thin slices in the length of your aubergines and place them on the baking tray. Brush them with olive oil and give them a good pinch of salt. Place the baking sheet in the warm oven for 20 minutes. Are they ready? Then turn the oven to 200 degrees.
Meanwhile, heat a splash of olive oil over medium heat. Saute the garlic and shallot until translucent. Add the cumin and oregano and cook for a further minute. Then add the minced meat and season with salt and pepper. Bake until the meat is cooked. Remove the pan from the heat.
Make pistachio crumbs by crushing the pistachios (in a mortar) or mixing them with a blender.
Stir 200 (not all) grams of the feta with the whipped cream in a bowl with a tablespoon, until it becomes a homogeneous mass. A few bits here and there wouldn't hurt. Keep the rest of the crumbled feta aside.
Is everything ready? Stack the aubergine lasagna in a baking dish. Fill the bottom with aubergines. Spoon a layer of the feta cream on top, then the minced meat and then the pistachio crumb. Repeat until your baking dish is full, but instead of pistachio crumbs, finish with the remaining feta. Cover the baking dish with aluminum foil and bake for 25 to 30 minutes.
Remove from the oven and finish the aubergine lasagna with the remaining pistachio crumb.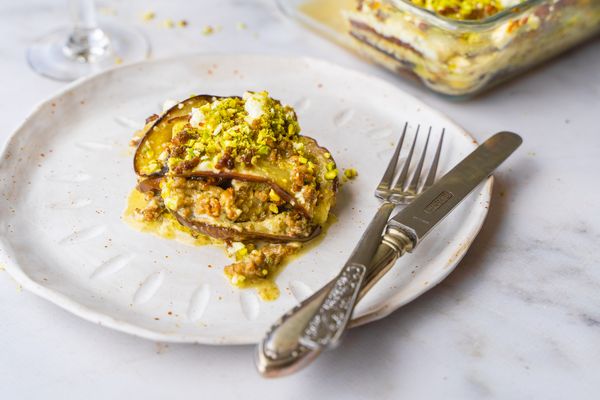 More lasagna recipes?
ravioli lasagna in a frying pan (ready in 10 minutes)

Lasagna with ricotta, spinach and sausage

open lasagna with mushrooms and green herbs