We came across this Indian mango-cucumber salad  on the great blog Chicks Love Food . A damn simple recipe for a delicious salad. Delicious with naan or a rice dish.
Ingredients
For 3 persons:
1 lime

1 red onion

2 tablespoons fish sauce (vegans use soy sauce)

1 mango

1 cucumber

Handful of salted peanuts

Pepper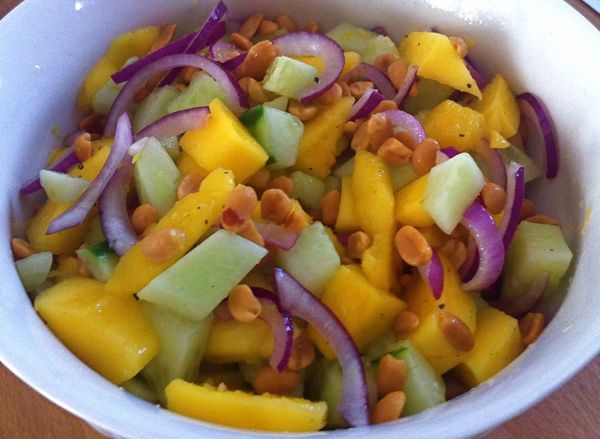 Making mango cucumber salad
Wash the lime, grate the zest and then squeeze out the juice. Mix the juice and zest with the fish sauce, season with pepper and set aside.
Peel the mango and cucumber and cut both into cubes. Peel the onion and cut into thin half rings. Place the cucumber, mango and onion in a bowl and pour over the dressing. Finish the salad with the peanuts.
More good recipes with mango
Pitas with chicken satay and mango salsa

Tacos with salmon and avocado-mango salsa

Spicy noodle salad with mango and aubergine skewers