Caesar salad is and remains an absolute classic among salads. There is always a lot of speculation about its origin, but the fact remains: this is our favorite salad ever . We like to make it with a (big) twist: with crispy fried pancetta, avocado and chicken.
Ingredients
For 2 people:
6 slices of pancetta (or bacon)

2 chicken thigh fillets

1 large head of romaine lettuce

50 grams Parmesan cheese

2 eggs

1 avocado

Dressing (see below)
The dressing:
2 egg yolks

Juice and zest of 1 lemon

120 ml extra virgin olive oil (good quality)

1/2 can of salted anchovies

Salt and pepper (to taste)

2 cloves of garlic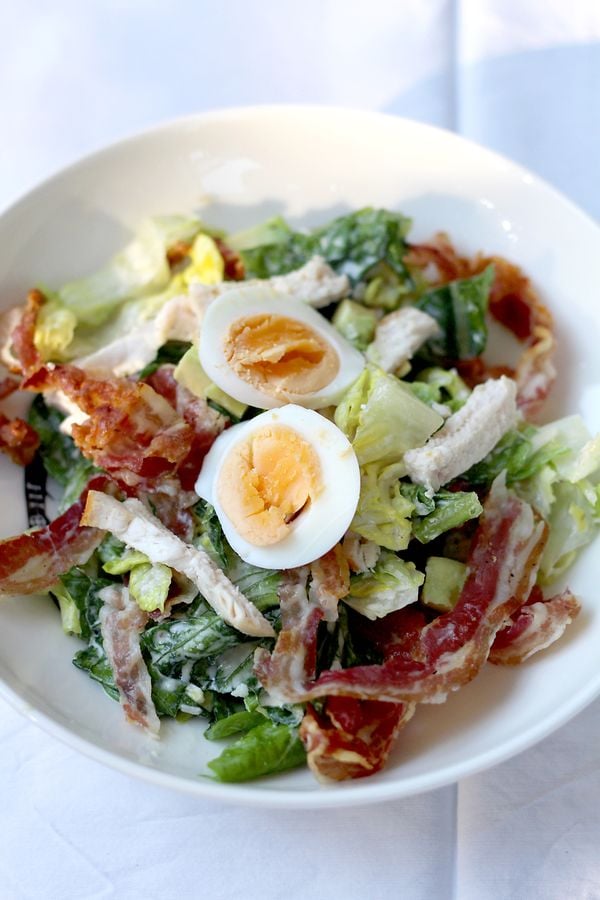 Making Caesar salad
Fry the pancetta (or bacon) until crispy. Boil the eggs (soft or hard, whichever you prefer).
Bake the chicken in a frying pan, grill pan or on the barbecue in a little oil or butter.
Then make the dressing. Mix the egg yolks, anchovies and garlic in a blender to form a paste. Add the salt and pepper and the juice and zest of the lemon. Mix for a few more seconds. Slowly add the olive oil in a thin stream and mix until the dressing is thick and creamy. Add more or less olive oil depending on the consistency you want.
Peel the avocado, remove the pit and cut the flesh into cubes.
Wash and divide the lettuce, toss with the dressing and Parmesan cheese and place on a plate. Place the chicken, avocado and pancetta on top and the boiled egg.