That tarte tatins can only be made with apple is old news. For example, Caroline recently made a savory variant with apple, fennel and goat cheese. 
2 fennel bulbs

1 Goudreinet, peeled and sliced

5 sheets of puff pastry, thawed

2 teaspoons fennel seeds

Large splash of Noilly Prat (or Pastis)

1 tablespoon honey

A little butter

100 grams of soft goat cheese
Cut the fennel into thin slices. In a frying pan, heat about one tablespoon of butter and put the fennel slices in it, fry them over low heat. Add the fennel seeds along with the apple slices. Fry everything until it starts to turn translucent and slightly brown. Add the honey and gently mix everything together. Deglaze with a dash of Noilly Prat and let it cook for a while.
Preheat your oven to 220 degrees and grease a quiche tin with a little butter. Divide the fennel and apple over the bottom. Place the puff pastry slices on top of each other on a board and roll out to slightly larger than the tin. Shape it into a round shape using a large plate and a knife.
Place the puff pastry over the fennel and press in the edges on the sides. Poke a few holes in the puff pastry with a couple of forks and put the tarte in the oven for 20-25 minutes until the top is nicely browned and cooked through. Remove the mold from the oven and let it rest for a few minutes. Place a plate on top and turn in one go. Be careful that any juices do not spill, because this is very hot!
Serve with some soft goat cheese and enjoy.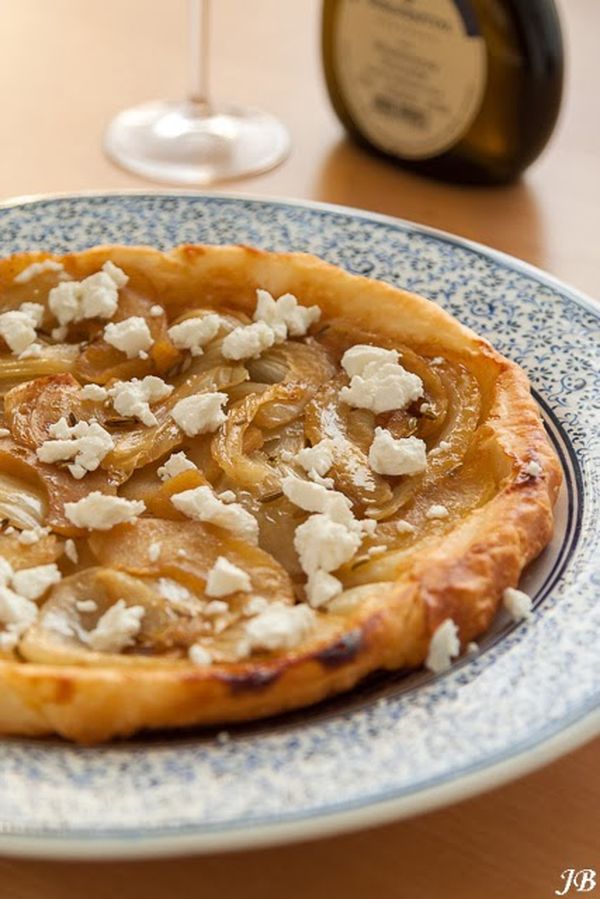 Have you made tarte tatins with special combinations before? We are curious!