Easter is on the doorstep again and so the egg salad trays are selling like hot cakes again. Ready? That's not for us. We are going to make delicious egg salad ourselves, based on a recipe by uberculy Conny from the blog  Koken met Conny .
Ingredients
The basic recipe:
1 outing

4 eggs

2 tablespoons mayonnaise

dash of 

worcestershire sauce

curry powder

little pepper

Salty

2 tablespoons fresh chives
Is this basic variant too simple for you? Then scroll through for fun variations!
Making basic egg salad
Boil the eggs moderately hard for 5 minutes, shock and peel the eggs. Cuts into cubes. This can be very convenient by using an egg slicer. Finely chop the onion. Place the eggs in a bowl with the onions. Sprinkle with salt, plenty of curry powder and a little pepper.
Add 2 tablespoons of mayonnaise (or for those who need to watch the pounds, yogurt) and mix. Add a dash of the Worcestershire sauce and stir again. Tasting is of course important. You can add extra salt or curry powder to taste. Finally, cut the fresh chives above the bowl and mix it in.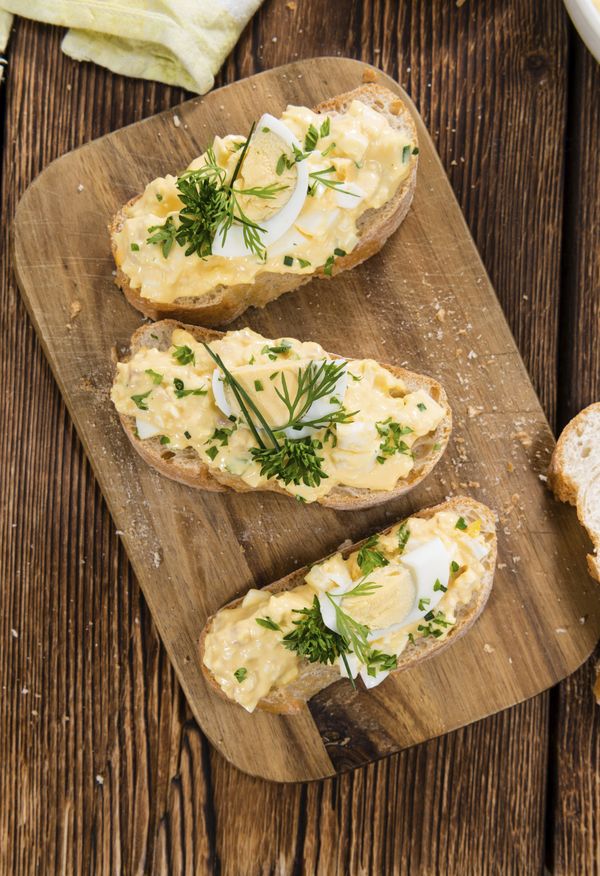 with salmon
Use the above recipe and replace the curry powder with 2 tablespoons of fresh dill. Mix well and tear a few slices of smoked salmon (preferably of good quality, although house brand is often also delicious) over the salad. Season with a little lemon juice, serve with a sprig of dill and a slice of lemon.
bacon
The editors' favorite is  without a doubt  bacon. Make the recipe for the basic egg salad and fry a few slices of bacon until crispy. Drain well on a piece of kitchen paper and crumble the slices with your hands. Just before serving, toss the salad with the bacon and serve with chopped parsley.
Smoked chicken & avocado
Get a piece of smoked chicken from the poulterer (or the free-range variant at the supermarket) and cut into cubes. Peel a ripe avocado and cut it into equal sized cubes to fit the chicken, season with salt, pepper and a little lemon juice. Mix the ingredients with the basic egg salad.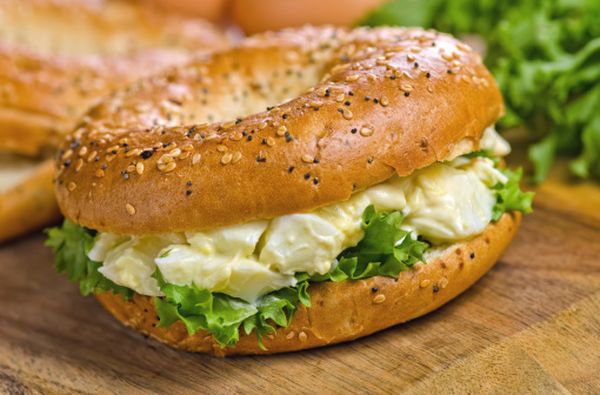 Tricolore
Make the basic egg salad recipe, but omit the chives and curry. Then finely chop a few sun-dried tomatoes along with a handful of fresh basil. Mix with the salad and serve with a basil leaf.
Ham and asparagus
Boil a few white or green asparagus (can also be asparagus tips) until al dente and let cool. Cut into fine pieces or strips along with a few slices of cooked ham. Make the egg salad according to the recipe, but omit the curry and chives. Mix with the asparagus and ham, and add a handful of chopped parsley.