Atrue Greek classic is spanakopita, a spinach pie made from filo dough. Crispy, fragile, full of flavor and vegetarian. And that's how you make it!
Ingredients
For 10 appetizers:
6 sheets phyllo dough, thawed

1 kilo fresh or frozen spinach

350 grams feta, crumbled

2 eggs, beaten loose

Salt & pepper, to taste

Dill, to taste

Olive oil

baking brush

Oven dish
You can make this spanakopita large, as a kind of quiche, or as a smaller snack, for example cut into a triangle. Today we make a large 'pie', which we then cut into squares.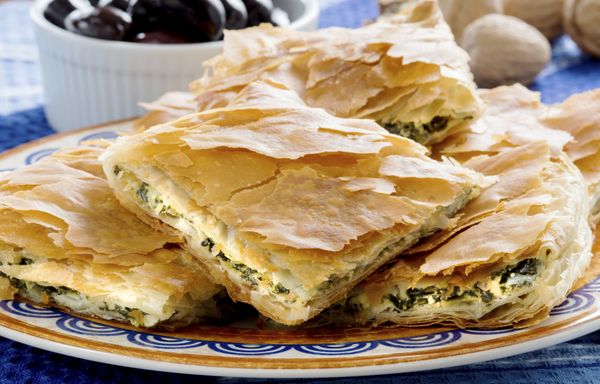 Making Spanakopita
Remove the filo dough from the freezer and store under a damp tea towel until use, otherwise the dough will dry out. Preheat the oven to 200 degrees.
Fry the spinach until it has wilted and squeeze out all the moisture, or thaw spinach from the freezer and make sure it is as dry as possible. You can do this conveniently with a clean tea towel, for example.
Roughly chop the spinach and mix with the feta , dill and 2 beaten eggs. Season with salt and pepper.
Line a greased oven dish with 1 sheet of filo dough and brush with olive oil with the baking brush; everything should be completely oiled. Place another sheet of filo dough on top and brush with oil again, then 1 more sheet and repeat with the oil.
Then divide the spinach mixture over it and smooth it out nicely. Finish with 3 more sheets of filo dough, brushing each time with oil. Brush the top with oil (or a little melted butter).
Don't worry if your dough hangs over the bowl a bit: just fold it in a bit.
Bake the spanakopita in the oven at 200 degrees for about 20 minutes, until the filo dough is golden brown.