At least once a week we enjoy a soup . Whether it's homemade or bought yourself, it remains tasty (and especially with some bread and butter). What is our favorite  homemade variant? This tomato soup with basil, sweet paprika and balsamic vinegar. 
Ingredients
For 4 large bowls of tomato soup:
2 onions

2 cloves of garlic

1.5 kilos of vine tomatoes

2 sweet (pointed) peppers

15 grams fresh basil (with stems)

1 bay leaf

250 ml stock

Good olive oil

Good, syrupy balsamic vinegar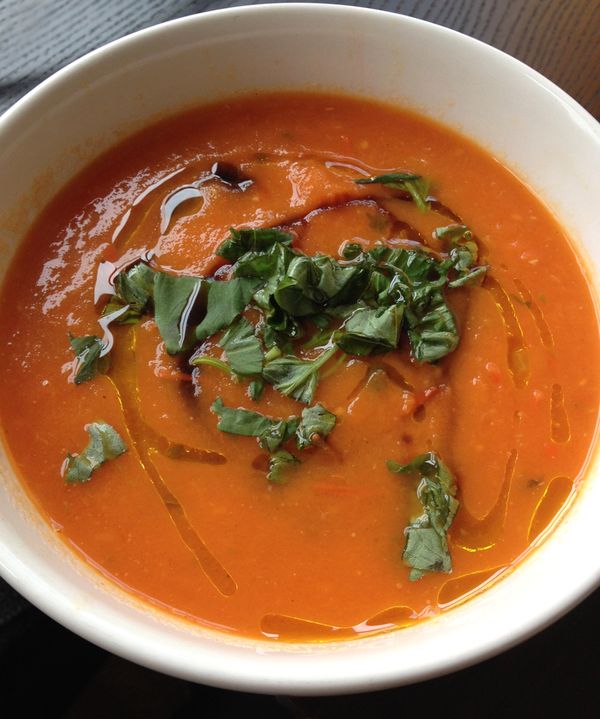 Making tomato soup with bell pepper
Score the tomatoes so that they have a cross at the bottom (on the other side of the crown). Place them in a bowl and pour (boiling) hot water over them. Carefully remove them after a minute and peel off the skin.
Chop the onion and fry it in a large pan in a dash of olive oil (not necessarily a very good oil). Add the bay leaf and season with salt and pepper. Chop the garlic and add it when the onion starts to look translucent. Bake for a while.
Meanwhile, cut the bell pepper into small cubes ( brunoise ) and fry them for five minutes with the onion mixture. Chop half of the basil (including stalks) along with the remaining stalks and add these as well. Also cut the tomatoes into cubes (they can be a bit bigger) and add them to the pan. Season with a generous pinch of salt and some pepper.
Put the lid on the pan and let it simmer on low heat for at least half an hour. The tomatoes will soften and form almost a real tomato soup. Add 100-200 milliliters of the stock and let it boil briefly.
Remove the bay leaf. Puree the tomato soup with a stick blender, taste if it has enough flavor and add extra stock, pepper and salt if necessary. Finely chop the basil.
Serve the tomato soup with the basil, a dash of olive oil and a dash of balsamic vinegar.
More tasty soup recipes?
Oriental pumpkin soup with nuts

Quick carrot soup with mint and dukkah

Turkish lentil soup with herbs