This delicious couscous with chicken, roasted peppers, apricots, raisins, almonds, pomegranate, pine nuts and parsley seems laborious, but is actually on the table in fifteen minutes. Tasty!
Ingredients
For 2 people:
150 grams of chicken breast

150 grams couscous

200 grams roasted bell pepper

100 grams apricots

50 grams of raisins, soaked in warm water

75 grams of pomegranate seeds

Handful of almond shavings

Handful of pine nuts

Pick parsley

Cinnamon

curry powder

Pepper and salt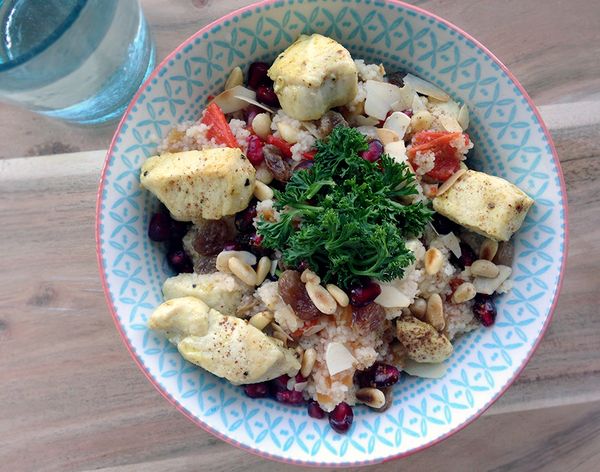 This is how you make the couscous with chicken, apricot, almond & pomegranate
First, make the couscous by placing it in a large bowl, along with some cinnamon, salt and pepper, and then pouring hot water on top, about two fingers thick above the couscous. Place a clean tea towel over it and let it steam for a few minutes. Then stir well with a fork. Still too dry? Add some more water, cover with a tea towel, wait a few minutes, and stir again.
Bake the chicken breast in a frying pan in a little oil or butter until done and golden brown and season with salt, pepper and curry powder.
Cut the roasted peppers and apricots into strips. Toast the slivered almonds and pine nuts briefly in a dry frying pan until lightly toasted and golden brown.
And then it's time to put it all together: mix the  fluffy couscous with all the ingredients (do  n't forget the raisins and pomegranate seeds). Finish with a sprig of parsley. Enjoy!