An über-decadent sandwich with scallops and avocado. For when you have something to celebrate or just because it's a nice weekday. Give yourself!
For 1 sandwich:
1 slice of good bread, toasted

Half ripe avocado

3 small or 2 large scallops

Olive oil (optional chili olive oil)

Two slices of bacon or bacon

Optional: mayonnaise

Salt and pepper

Parmesan cheese, grated

Flat-leaf parsley, finely chopped

A wedge of lemon
Fry the scallops briefly ( read some tips for baking scallops here ) in olive oil, or even better: chili olive oil. The outside should be a nice golden brown, the inside still just raw.
Fry the bacon until crispy and tear or cut into very small pieces.
Toast the bread and mash the avocado (optionally with a little mayonnaise for some extra creaminess). Spread the bread with the avocado cream. Place the fried scallops on top of the avocado cream and finish with the pieces of bacon.
Season with salt and freshly ground black pepper. Sprinkle with a little grated Parmesan cheese and finely chopped flat-leaf parsley. Serve with a lemon wedge.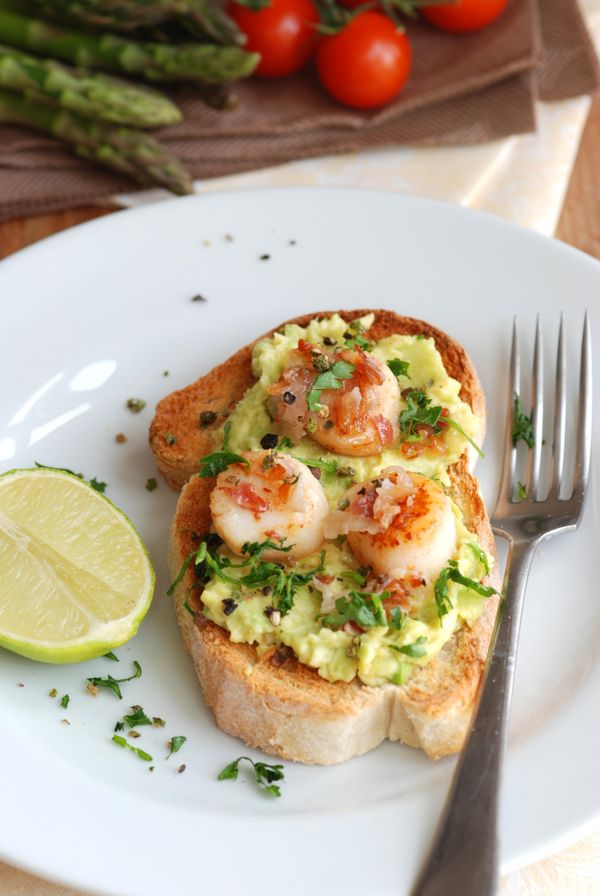 For this recipe it is very important that your avocado is well ripe. Not sure if your avocado is ripe enough? Watch the video below in which we explain our super handy avocado check tip.