Are you still looking for a festive Christmas salad to unpack with, then you have found it here. Serve it , for example , as a side dish with this easy turkey or with a roulade with baked potatoes . Tadaaa, your main course is already fixed!
Ingredients
For 3 to 4 people (as a side dish):
2 mandarins, peeled and thinly sliced

The leaves of 3 stumps of red chicory

Handful of pomegranate seeds

150 grams of red berries

Handful of pecans, roughly chopped

A few leaves of fresh mint
For the dressing
The juice of 1/2 mandarin

2 tablespoons maple syrup

2 tablespoons olive oil

1/2 teaspoon mustard

Salt & pepper (to taste)
The secret of the dressing is in half a teaspoon of mustard. This balances the other flavors of the Christmas salad very nicely and gives it a warm aftertaste.
>  Also delicious: Christmas caprese salad with persimmons and basil oil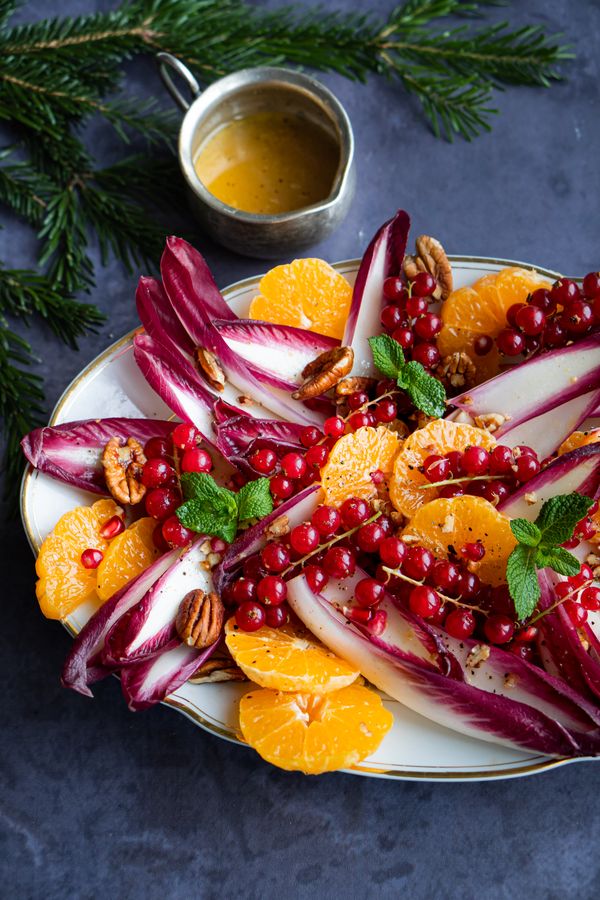 Christmas salad with mandarin, red chicory and pecan
Make the dressing by mixing all ingredients together in a bowl.
Arrange the red chicory leaves on a platter. Arrange the mandarin slices in between and sprinkle the pomegranate seeds on top. Also put the sprigs of the red berries in between.
Toast the pecans in a dry frying pan and divide them over the salad. Spoon over the dressing and garnish with a few leaves of fresh mint.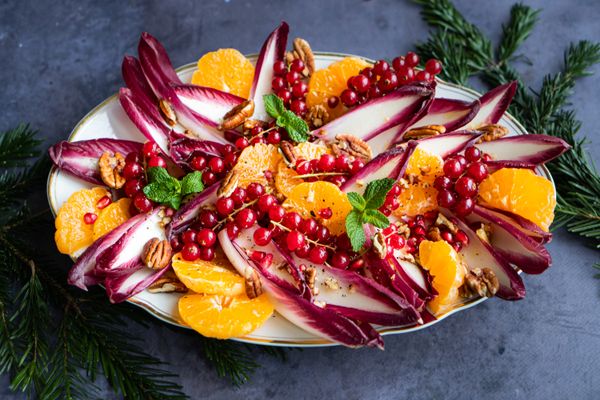 More tasty side dishes for Christmas?
9 x the best side dishes to put on the table while gourmet

Christmas caprese salad with persimmons and basil oil

L'aligot (divine mashed potatoes with cheese) by Alain Caron