Fett'unta is an ode to fresh, local olive oil. When it's ready, Italians like to splash their oil on a piece of toast with garlic: fett'unta. It can hardly be simpler, but that is not a disadvantage here. As long as you choose the ingredients you use with care, you have an excellent lunch in your hands.
Ingredients
For 1 toast:
Handful of cherry tomatoes

Extra virgin olive oil

Pepper and salt

pinch of sugar

1 thick slice of sourdough bread

1 ball burrata

1 tablespoon pesto

Fresh basil

.
We like to make our fett'unta with burrata, tomatoes and pesto. Super classic, but so delicious. What's the message here? Buy quality bread (say hello to your favorite baker!) and invest in extra virgin olive oil.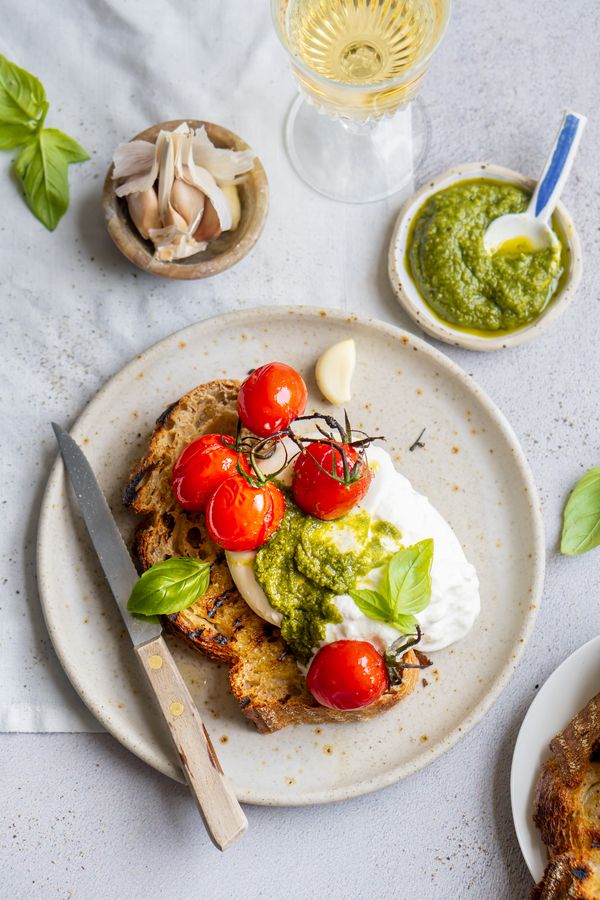 Fett'unta with burrata, tomatoes and pesto
Turn on your oven's grill.
Arrange the tomatoes in a baking dish and give them a splash of olive oil and a good pinch of salt and pepper. Add a pinch of sugar and mix everything together. Place under the hot grill for 13 minutes.
Meanwhile, toast the bread (in a grill pan or in your toaster). Peel the garlic clove and rub it over the entire surface of the warm bread. Place the bread on a plate and drizzle with some extra virgin olive oil.
Also arrange the burrata and pesto on your toast and finally remove the tomatoes from the oven. Arrange it on top and finish the fett'unta with some fresh basil.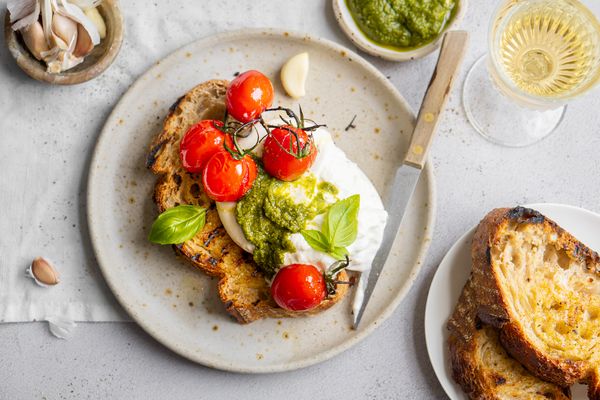 Want more easy lunch recipes?
lunch wraps with chicken, kimchi and fresh yogurt dressing

Roast beef sandwich with kimchi and lime mayo

quick lunch tortilla with fried eggs in chipotle