With every cheese board we put on the table, there are leftovers. And yes, more often than not those are left lying around in the fridge for no purpose. That is of course a shame, because we usually present the most beautiful cheeses on a cheese board that deserve to be eaten with great taste.
That's why a handy guide: what can you do with your leftovers from a cheese board?
You can do all this with the leftovers from your cheese board
1. toasted sandwich
Sandwiches are a grateful gift on uninspired days and when using up leftovers. With leftovers from a cheese board you can invest your sandwiches to your heart's content. Delicious with a spicy quince jelly , with mustard or with a lick of your favorite mayonnaise . And oh yes: always grease the outsides of your sandwich with mayo. Read here why.
> Tip: make a 'kimcheese sandwich' with leftover kimchi! 
2. Quiche
We probably don't have to tell you that a quiche is best with a layer of cheese au gratin. Make sure that the type of cheese you choose fits well with the filling (sweet flavors such as tomato often require a slightly spicier cheese such as Parmesan or old) and that you do not use too much.
You don't have to use a lot of processed cheese at all, otherwise it will be a wet mess. You can also use cheeses such as goat cheese, mature cheese, Mozzarella, Gorgonzola and Parmesan cheese both in the filling and on top.
> More tips: with these cooking tips you can bake the perfect quiche
3. Pizza
Pizza is perhaps the easiest way to use up the leftovers from your cheese board. It is not for nothing that the Pizza quattro formaggi is a popular pizza for cheese lovers. Oh and by the way: nobody says that you have to stick to 1 pizza with 4 types of cheese. Have fun.
4. Pasta
Pasta with lots of melted cheese: many people (rightly) call it a gods meal. The possibilities are endless, by the way: from mac 'n cheese to a papardelle with cauliflower and blue cheese or lasagna with four types of cheese .
Not convinced yet? Take a look at the video below, in which food writer Carolina Gelen shows that you can also make a deliciously creamy pasta with leftover Brie.
> Tip:  No more thick lumps of cheese in your pasta, thanks to these tips
5. Cheese fondue
Do you have leftovers from different cheeses? Use it as an excuse to organize a cheese fondue evening. Classic cheeses for fondue are Emmental and Gruyere, but you can also use Cheddar, Raclette or Mascarpone (for a creamy touch).
Do you like stronger flavors in your cheese fondue? Then you can add some  Gorgonzola, Camembert or Goat cheese  . To bind your cheese, you can use flour or cornstarch.
> More tips for cheese fondue: Cheese fondue: tips & tricks to make it really tasty
6. Quesadillas
Quesadillas (say the Mexican version of the sandwich, where you use tortillas instead of bread) are another gratifying gift for the leftovers from your cheese board. Delicious in combinations such as sweet potato chorizo ​​or spinach serrano ham .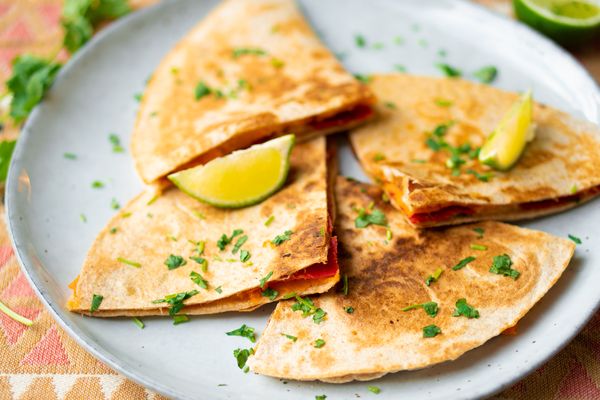 Do you want to cook more with leftovers?
Super tip: store leftover wine in an ice cube tray

one-pan pasta with leftovers from your vegetable drawer

9 tips for leftover rice