Tofu doesn't exactly have a sexy image. And admittedly: it does not have such an exciting taste in itself. But once you know how to prepare tofu really tasty, a whole new world opens up for you.
> Read also:  Tofu: these are the different types
This is how you prepare tofu delicious
Tofu crispy baking
Tofu crispy baking starts with the drying of firm tofu. You do this by wrapping a block of tofu in a clean tea towel and placing a heavy object (such as a pack of sugar) on it for 15 minutes. If the tea towel gradually becomes too wet, you can repeat this process with a dry tea towel.
Cut the tofu into cubes once it is sufficiently dried out. Keep in mind that the shape of the cubes also influences the taste. The larger the surface, the more crunch. So you could also go for slices instead of dice.
It is also important that you fry the tofu over high heat in a generous dash of fat. Choose an oil that can withstand heat, such as canola oil or refined coconut oil. Give the tofu a generous pinch of salt after baking, that's delicious.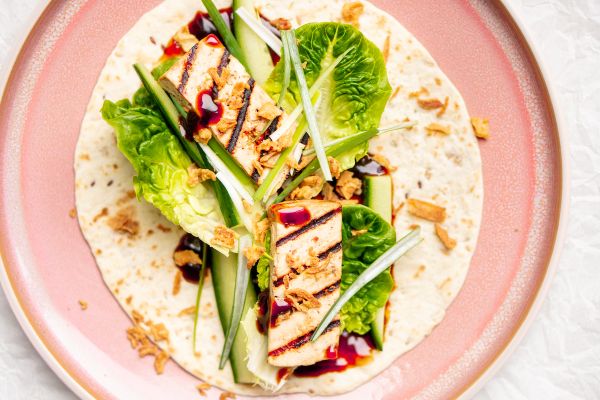 Give it a crispy jacket
You could also choose to prepare tofu in a crispy jacket. You do this by first squeezing the liquid out of the tofu (as described above) and then breading and baking it. Note: use the firm tofu for this, the silken variant is not firm enough for this.
Prepare three containers for breading: one with flour, one with a beaten egg and one with breadcrumbs or panko. Dip the cubes first in the flour, then in the egg and then in the breadcrumbs. Finished? Then fry the cubes in a layer of vegetable oil. Turn the cubes so that they have a chance to bake on each side. A pinch of salt to finish is also very tasty here.
marinate tofu
Tofu has the handy property that it absorbs flavors very easily. That is why it is always best to marinate tofu (cut into cubes) at least an hour in advance, in a closed container in the refrigerator. Here are some of our favorite marinades:
Stir 1 tablespoon  

sambal

 into 1 tablespoon soy sauce. Spice and umami combined: always delicious.

Black bean garlic sauce

 . You can now simply buy this taste bomb at the 

Albert Heijn

 . Give it a try.

The combination of  

peanut butter

 ,  

soy sauce

 ,  

lime juice

  and  

sambal

  is also a delicious one. Experiment a bit with the proportions yourself, because not much can go wrong here!

Hoisin

 ,

 whether or not diluted with a dash of ginger beer
Our favorite recipes with tofu
delicious vega (n) ramen with miso, pumpkin and tofu

Mapo Tofu (for those who can't be spicy enough)

Indonesian tofu omelette with peanut sauce (tahu telor)