The number of banana breads we baked during the lockdown cannot be counted on two hands. Delicious for breakfast, great for snacking and perfect to take with you during a picnic or a walking coffee date. There are tons of ways to make banana bread, and they're all delicious, but the key to baking the best banana bread is in the add ons. 
In other words: spice up the recipe with delicious additions that you (often) have in your pantry.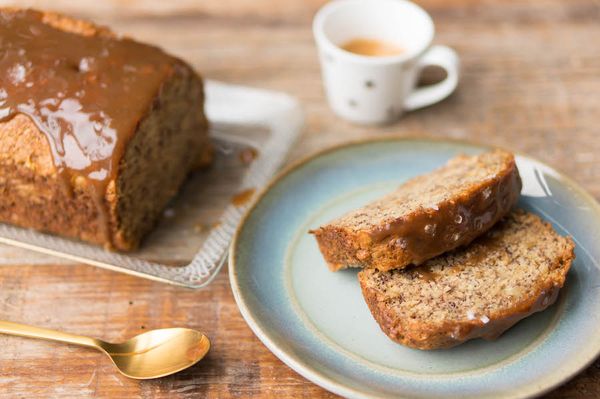 Add to the batter
What you often see in banana bread recipes are dates, blueberries, nuts or cinnamon. But there are of course many more tasty additions to give your banana bread that little something extra that makes it exceptionally tasty. Try this one:
Instant 

coffee

 (or stir a shot of espresso through the batter)

Peanut butter (with pieces) or tahini

Vanilla extract

Salted peanuts

Raisins soaked in rum

Granola (for a crunch)

Chopped M&Ms, Oreos or stroopwafels (or other cookies you like)

coconut yogurt

Jam

A dash of Bourbon

Marshmallows

chai spices
Handy when making banana bread: tips & tricks that always work
Toppings for your banana bread
You can put a lot more goodies on top of your bread/cake than a banana cut in the middle. Experiment with the following ingredients,
Cornflakes 

(as in this recipe)

Marshmallows

Salted caramel sauce

Espresso frosting

 (or other tasty frosting to taste)
Do you have any other leftovers in your kitchen? Your banana bread really is the perfect place to hide them. Think of blueberries or raspberries that you have left or a jar of hazelnut spread that you want to use up.
Go on a banana bread discovery tour yourself and make your bread completely your own and exactly the way you like to eat it. And, above all, do share your findings with us (we are only too happy to supplement this article with even more tasty ingredients!).
Trick: this is how you quickly ripen bananas for banana bread (in 30 minutes!)
Culy's banana bread recipes
Banana bread blondies with pecan nuts

Vegan banana bread with salted caramel

Healthy banana bread

Easy banana bread with walnuts and raisins

Banana bread without egg