In our opinion, clinging tightly to recipes does not equal being a good cook. Of course, some recipes are so ingenious that it's best to weigh them down to the gram (especially when baking!). But there are also a lot of dishes where you have more leeway and can replace certain things with alternative ingredients.
So before you rush to the store to get that one ingredient, take a look in your pantry. Maybe you have something at home that can do it too.
List of Alternative Ingredients
Egg Alternatives
In sweet baking
In sweet baked goods, you can replace eggs with mashed banana (65 grams for 1 egg), unsweetened applesauce (65 grams for 1 egg), a mix of 1 tablespoon of chia seeds and 3 tablespoons of water (per egg to be replaced) or 60 grams of yogurt (per egg).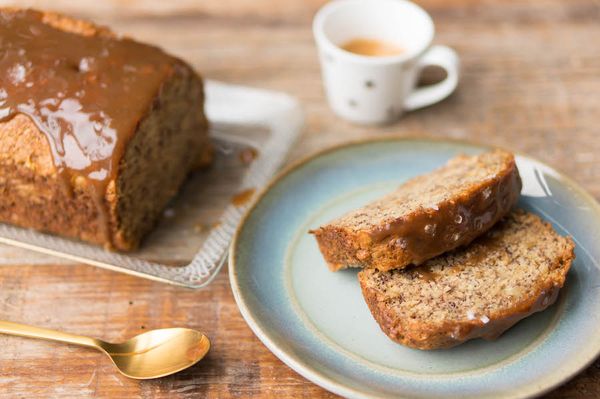 in quiche
Is it possible to make a quiche without eggs? Yes, of course. The trick is in silken tofu . You can mix and flavor this stuff (for example with black salt , the best way to mimic the aroma of eggs, and/or with turmeric, for the color), so that it becomes a running mass with the consistency of eggs. Click here for a good recipe.
Another option is to fill the quiche with a mixture of cream and grated cheese .
Mimicking proteins
A special case is protein. If you want to whip egg whites (for example for meringues) but you don't have any eggs in the house, you can collect the liquid from a jar of chickpeas and whip it into aquafaba. Read more about it here .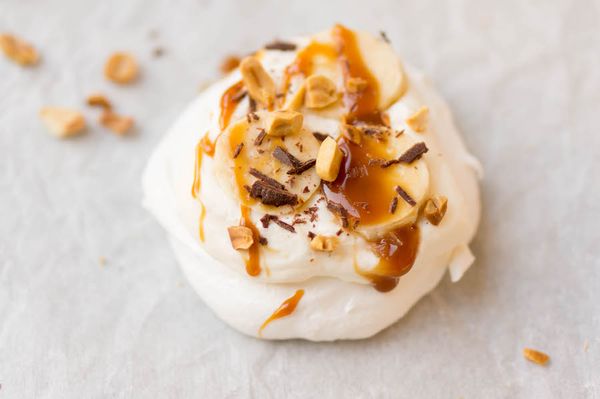 breading
If you want to bread ingredients with a crispy layer, it is often recommended to prepare a bowl with a beaten egg and grease the ingredient with it. The breadcrumbs will stick better that way. If you don't have eggs, you can brush the ingredient with a layer of milk (seasoned with salt and pepper if you like). Meat and fish are often moist enough by themselves to absorb the breadcrumbs.
Milk alternatives
A splash of milk
Do you need a splash of milk in a pasta sauce, mashed potatoes or quiche? You can easily replace this with cream (possibly diluted with a little bit of water). Remember that milk creates creaminess, so you could also choose to run a tablespoon of a creamy cheese (such as mascarpone or cream cheese ) with a little water.
in baking
In most recipes, regular milk can be replaced one-on-one with plant-based milk . Don't you have that at home too? Replace the milk with yogurt or kefir (1-on-1). If you don't have that either, you could also make a solution of water and melted butter (use 1.5 tablespoons of butter for 250 ml of water) and use the same amount as the milk in the recipe.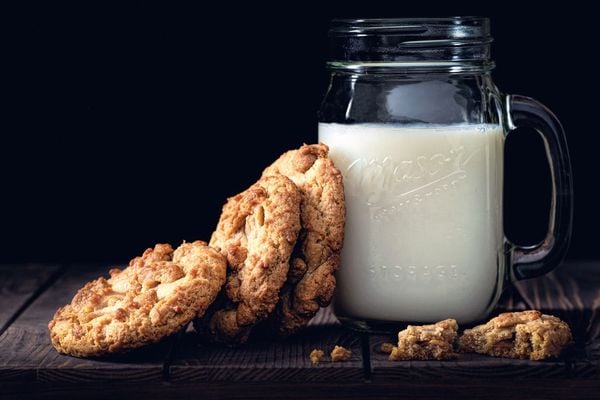 Tip: plant-based milk
With plant-based milk, keep in mind that some varieties have a subtle aroma that can affect the taste of your dish (think almond milk or hazelnut milk). Always critically ask yourself whether that aroma fits with the rest of the dish.
Also keep an eye on whether your plant-based milk is sweetened or not. The safest option is unsweetened milk anyway. If you miss a sweetness afterwards, you can always add extra sugar (or other sweetener).
Alternative ingredients for cream
In sauces and soups
Fortunately, you can't just make a creamy sauce from cream. Milk, mascarpone, cream cheese, ricotta … As long as your alternative also has the necessary creaminess, you can use it as a substitute.
If the texture of your sauce is too firm because of this, you can always add a little more milk or water to make it more runny. You can also apply this principle to soups, mashed potatoes or gratin.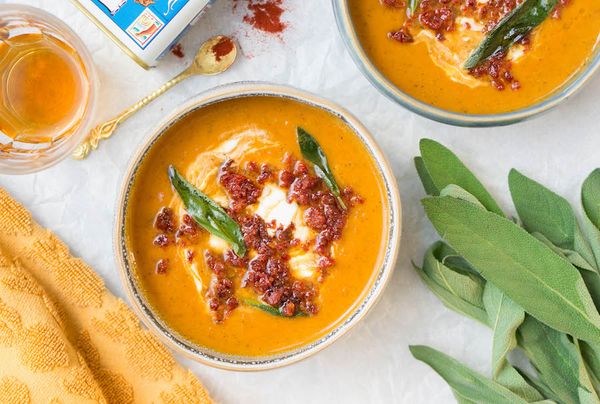 A general replacement
In addition, there is also a general guideline to make your own cream substitute, one that comes closest to the properties of full cream.
To do this, mix 1/4 part melted butter with 3/4 parts milk and stir well. You can use this mixture as a 1-to-1 substitute for cream. It is also possible to mix equal parts of Greek yogurt and milk .
in desserts
Do you want to make panna cotta without cream? This recipe shows how easy it is with canned coconut milk. You can also easily make chocolate mousse without whipped cream or eggs and you can even prepare whipped cream with canned coconut milk.
Vegan alternatives to cream
Replacing cream with a vegetable alternative is of course also possible. Canned coconut milk or Oatly's oat cream are good options here.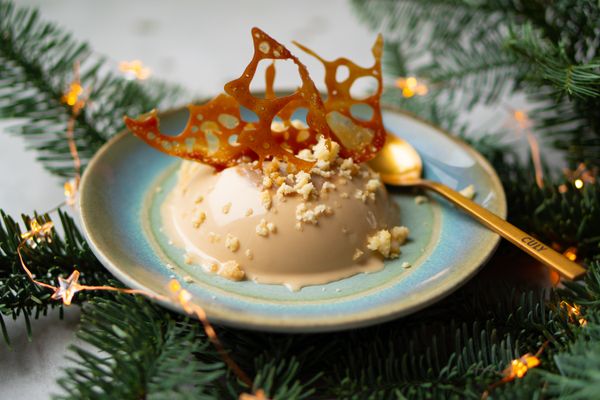 Alternatives lemon or limeto Lemon and lime are very interchangeable with each other, but what do you do if you don't have either one at home? When lemon is not a main ingredient in savory dishes (such as pasta or salad dressings), you can replace lemon with a splash of white wine or apple cider vinegar . These offer a similar sourness to your dish.
Lime in Asian dishes
Got an Asian dish in front of you that requires a squeeze of lime juice? Then replace it with a spoonful of tamarind , this paste gives a fairly similar fresh-sour tone to your dish.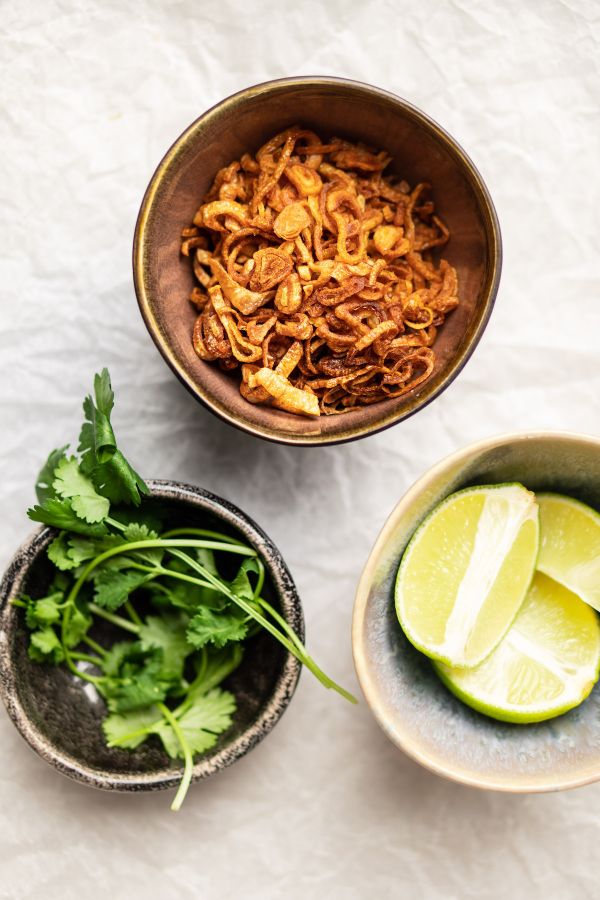 Alternatives to white wine
You can replace white wine with Verjus , with chicken or vegetable stock or with white grape or apple juice. Rule of thumb: for some acidity, use a tablespoon of white wine vinegar or lemon juice per 250 ml of stock.
Do you prefer a sweet effect? Replace the wine with sugar or honey.
Red Wine Alternatives
Red wine in preparations can be replaced with chicken, beef or vegetable stock, but also with grape, pomegranate or cranberry juice.
For a slightly sour taste or for degreasing pans, for example, you can use a tablespoon of red wine or balsamic vinegar per 250 ml of stock. Use sugar or honey for a sweeter taste.
Coriander Alternatives
Although we think coriander is fantastic, some people say the herb tastes like soap . In that case, replace the coriander with parsley and/or mint .
Alternatives to breadcrumbs
You can replace breadcrumbs with ground leftover stale bread, ground oat flakes, ground tortilla chips or ground nuts.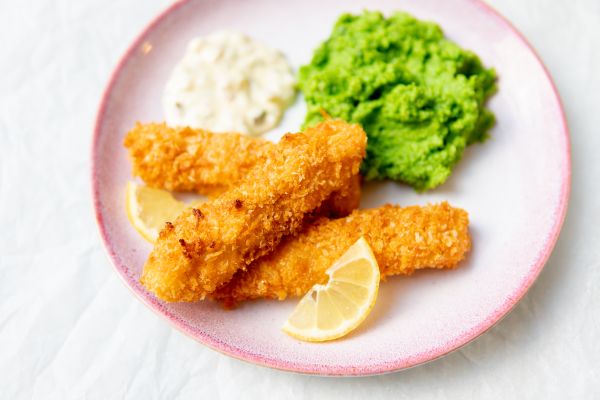 Alternative Ingredients for Cornstarch
Cornstarch can easily be replaced with flour, arrowroot and tapioca. It is best to use flour if you heat the dish for a longer period of time (otherwise you will taste it again).
Do you want to quickly bind a dish? Then you can  use arrowroot or tapioca  . You can buy these binders at most health food stores and bind at a lower temperature than cornstarch.
More cooking tips?
With this cooking tip you get more juice from lemons and limes

Cooking tip: never throw away the paper packaging of butter

What can you do with leftovers from a cheese board?