Being critical Culy's we don't think every TikTok hype is equally successful. But when we recently made the TikTok pasta with feta , we had to admit: that's a pretty brilliant idea from those TikTokkers. Because we suspect that the hype will continue for a while (or in fact: that the hype will never go away), we would like to inspire you with 6 variations on the famous TikTok pasta.
You already know our favorite variant: one with extra kalamata olives, lemon and a pinch of chili powder. But what else can you do?
> To the recipe we are talking about:  quick pasta with baked feta from the oven (TikTok hack)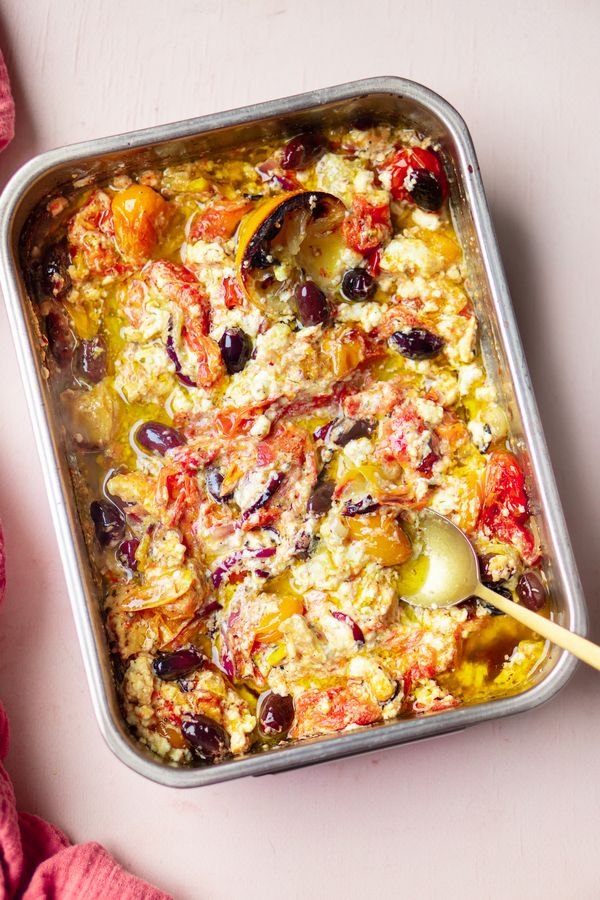 6 x variations on TikTok's famous pasta with feta
1. Replace the feta with Burrata
Your dish will be even tastier (and secretly a little more decadent) when you replace the feta with Burrata, that fresh Italian cheese that's basically a mix between mozzarella and cream.
2. Make it vegan…
Do you eat completely plant-based, or do you want to avoid dairy more often? There are already a lot of vegan food bloggers who have tested whether the hack works just as well with vegan feta. And yes, that is possible. Useful! You can also buy vegan feta in the Albert Heijn, from the Violife brand .
3. …or just not
Meat lovers can give the pasta a little more volume by adding some pieces of meat. We know for sure that slices of chorizo, bits of prosciutto or a bit of 'nduja will go very well with the rest of the pasta.
4. Add more vegetables
Red bell pepper in fine strips, a few handfuls of spinach, zucchini ribbons, pieces of mushrooms,… If you had decided to eat vegetables more often, you now know how.
5. Add a squeeze of honey
Fans of sweet-salt combinations know that feta and honey are a genius duo. If you're already crazy about the idea, don't hesitate to drip some honey on the feta before it goes into the oven. That seems to work very well.
6. Use Zucchini Instead of Pasta
Not a fan of #carbs? Replace the pasta with zucchini or other vegetable pasta (like this swede tagliatelle ). That immediately makes it a bit lighter.