Aworld without waffles: what a sad thought that is. Instead, we prefer to think of original ways to make waffles. As much as possible, and of as many different things as possible. The result of our thinking exercise can be found here
You can make waffles with this
polenta
Do you still have a giant bag of polenta in your kitchen cupboard? Make waffles out of it! At Bon Appétit, for example, they have a delicious recipe for polenta waffles with strawberries . genius. Also, polenta waffles (or 'cornmeal waffles') are often used as the basis for chicken & waffles .
Sweet potato
By cooking sweet potato and blending it with flour, eggs and milk, you get a bright orange waffle dough that you can use to make delicious sweet potato waffles. You can invest it both sweet and savory. How about toppings like avocado-ricotta-chili? Or maple syrup and a knob of salted butter? A good recipe for sweet potato waffles can be found here.
Leftover sticky rice
Leftover rice from your sushi party yesterday? Make balls and bake them in your waffle iron into rice wafers. Delicious served with a fried egg and some furikake, or as part of your favorite rice bowl.
puff pastry
Puff pastry is perhaps the easiest way to make waffles. Because if you thaw square sheets of puff pastry overnight in the fridge, you can easily cut them into the desired size the next day and bake them in your waffle iron for five minutes. Yes: it really is that easy. The result is waffles that surprisingly look the same as the waffles you know.
Falafel
It was the great Mounir Toub who taught us how to make tasty savory waffles from the ingredients you normally use for falafel. Chickpeas and lots of fresh herbs. Sounds impressive huh? The whole recipe will take you less than 30 minutes.
Falafel waffle with beetroot salad from Fast Arabic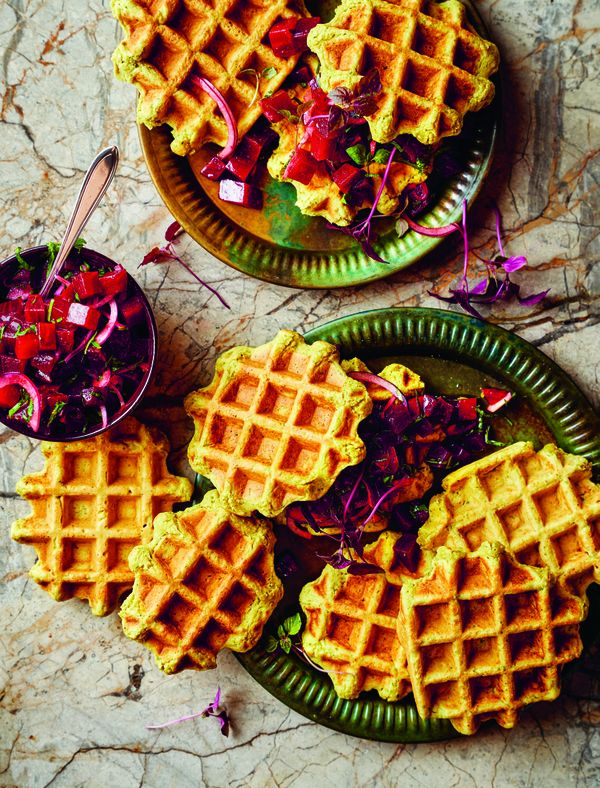 Oatmeal
No more flour in the house, but still oatmeal? By grinding the latter, you have an excellent basis for oat waffles . They are also gluten-free, unlike waffles with regular flour.
Smoked salmon
That's an original idea for lunch: making waffle dough with pieces of smoked salmon in it. Add a little sour cream, a little dill and you have a great dish. You can find a recipe for this here .
Our favorite waffle recipes
Vietnamese Bánh mì waffle with pork belly

Delicious breakfast recipe: spelled waffles with fruit

Recipe for traditional Liège waffles