You're about to make a spicy tomato sauce, with lots of garlic, you're rooting in the pantry and all you can find is a bulb of sprouted garlic with those green blades. What now?!
This is surely recognizable. You've just fiddled with the garlic cloves for a nice big pot of soup or a  chana masala when  you discover green blades sticking out of the cloves. Crazy antennae hiding in the garlic you just need. Should you throw away the cloves? The whole sphere?
Sprouted garlic, can you eat that?
Don't worry — those green suckers aren't a threat to your health. No problem! It's just the garlic that sprouts more garlic on its own, like… superman regenerating his cells so he heals super fast, or like the coolest superhero on earth: nature itself!
Usually you don't let it get that far, and use the garlic before those long, green blades shoot out of the tops of the toes. Often you won't even notice the garlic has sprouted until you cut into it.
While those blades look similar to chives, they don't share the same mild flavor; the garlic sprouts are quite bitter. Especially if you eat it raw. It has a sharp taste, without that nice sweetness that garlic should have. But to answer the question: yes, you can eat sprouted garlic just fine, but the taste is less ideal.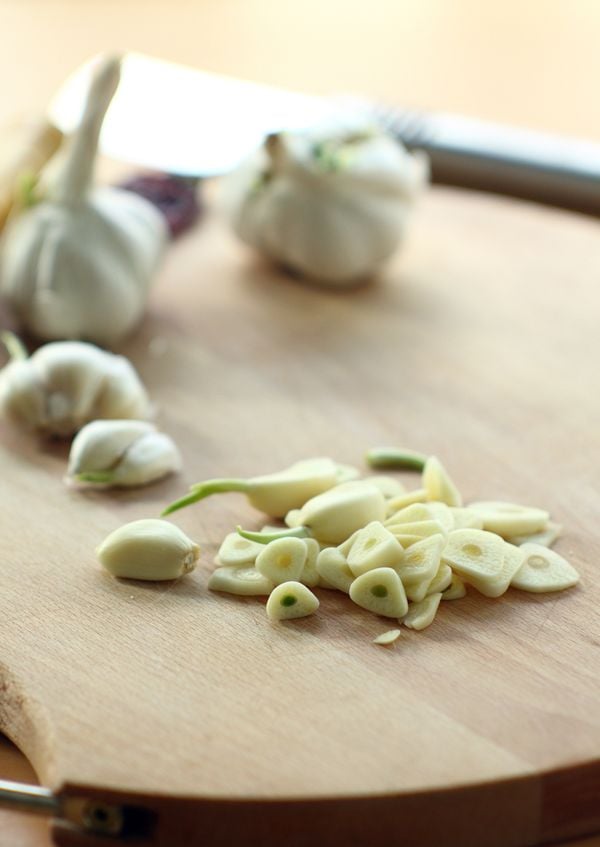 What do you do with sprouted garlic?
If you only need one or two cloves of garlic in a dish, you can use the sprouted garlic just fine. You will hardly notice the difference. But if you want to use the offshoots in a dish where garlic is the star of the show – think herb butter, garlic bread , or this chicken with 40! cloves of garlic – then you better ignore them and go for the real deal.
What is that? Well, tastes differ, but in the editorial we are huge fans of pink garlic from Lautrec.
cut away
The germs contain a lot of antioxidants, so it is better to eat them for your health. But we totally get it if you don't fancy that bitter taste. What you can do then is to remove the blades.
How do you do that? Simple, you cut the sprouted garlic in half lengthwise and pull out the green blade.
Why do you get those green offshoots?
The offshoots are a sign that garlic is starting to spoil, especially because the bulb has been there for a long time, or because it has been exposed to too much heat, light or moisture.
Garlic likes to be stored in a cool, dry and dark place for maximum life. You often do not know how long garlic has been on the supermarket shelf. It could just be that the garlic has already started to sprout before you put it in your shopping cart.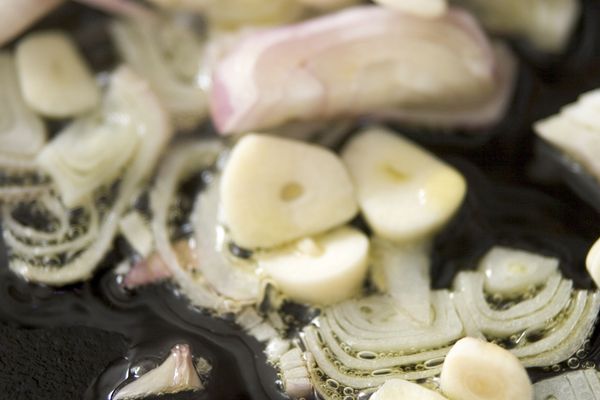 This is how you prevent your garlic from overshooting
If you store garlic correctly, a garlic bulb will keep for about six months, and the loose cloves will last about three weeks. Place them in a cool, dark place. For example, in your pantry.
And if you do have splayed toes, only make an effort to trim those green blades if you plan on using them raw (for a garlic-tahini sauce, for example). Because trust us: a few offshoots in a dish don't hurt anyone.