On sushi, on blinis or with your pasta: you see fish eggs popping up here and there. But what are they? And are they worth using in the kitchen?
We list it.
Caviar versus fish eggs
We know the most expensive fish eggs in the world as caviar: unfertilized sturgeon eggs. These are fairly rare, at least if you want them of good quality (for example from the wild sturgeon from the Caspian Sea). Sometimes you can also see affordable 'caviar' from other fish, such as the roe of herring or trout. And the orange eggs, usually from the salmon, that we see on sushi. You can buy them in the better fishmongers and even at the Albert Heijn .
Even cheaper are the jars of 'imitation caviar' that you sometimes come across. These too are of course not from the sturgeon, but from the lumpfish. Good to know: often these lumpy fish eggs are colored with squid ink or orange food coloring to resemble caviar or salmon eggs. In terms of taste, on the other hand, they are almost tasteless and a lot of E numbers are added.
And the taste?
Let's face it: in terms of price, the cheaper alternatives to caviar are of course a lot more attractive. The key question here is therefore: what about the difference in taste – in addition to the price difference?
In a fairly recent episode of the Keuringsdienst van Waarde , this question was posed to caviar expert Ashkan Mossafaian. We'll spare you his exact words when he tastes the dirt-cheap lump fish eggs, but let's just say that there is indeed a big difference in taste – in favor of real caviar, of course. Although that is of course also possible if you look at the price tag…
Fish eggs in the kitchen
Do we write off cheaper fishing eggs completely? Not necessarily, although we would avoid the dirt cheap lumpy fish eggs for the above reasons. But if you don't want to pay for yourself and still want to get close to caviar, then fish eggs from salmon, trout or herring are a good alternative. In that case, it is best to buy them from the fishmonger.
For example, garnish them on top of your homemade sushi , or spoon them on your blinis . We also used salmon eggs to stuff eggs with , along with some wasabi and strips of nori. That was super tasty. Moreover, you can give your favorite rice bowl a touch of luxury in no time at all.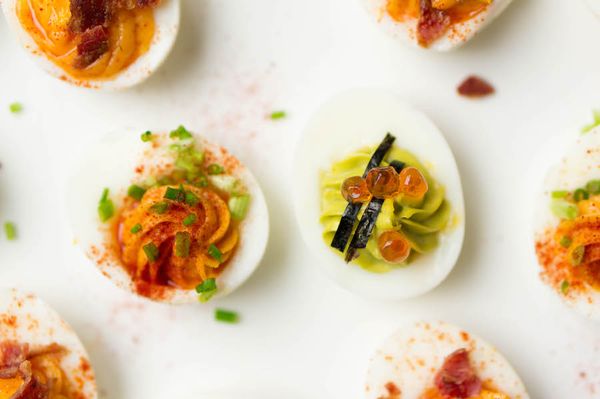 Alternative to fish eggs
Alain Caron made a pasta with caviar in the podcast The Last Supper , in which he also opted for the cheaper herring caviar. Super-deluxe of course, but man that sounds good! Sergio Herman, in turn, uses trout eggs as a topping for his sea bass crudo, in his book New Italian .
And finally: do you understand that the texture of fish eggs is delicious, but do you eat vegetarian? Pickled mustard seed is going to improve your quality of life, give it a try.