Totally bananas , but this really works. The next time you make spring rolls, you no longer have to beat an egg for the edges, no, from now on you use a banana!
In principle, spring rolls fall outside of trends, special techniques and fussiness. A spring roll is tasty enough on its own and should not be taken too seriously. Refreshing!
Until a video appeared on Instagram with a spring roll and a… banana. And no, that banana does not go in the spring roll.
Bananas and spring rolls?
Has a trend crept in? Not really. It is a handy trick to make folding spring rolls easier. Joy Huang's Reel, who shares recipes and cooking inspiration on her account @joyosity , shows Joy filling a spring roll wrapper with a savory filling, folding it and closing it with the end of a banana (still in the skin)!
Joy learned the hack from Indo-Chinese Australian culinary writer Lara Lee, from her cookbook Coconut & Sambal . In any case, Lee has a wonderful account to follow!
Does it work?
There are several roads to Rome. A beaten egg is often used to make the spring rolls stick well. That works fine, only the disadvantage of egg is that you get dirty hands faster and you are then stuck with a leftover egg that you can do nothing with. In addition, egg is not vegan, if you want to make vegan spring rolls.
The other alternative is water, which we brush over the spring rolls in this recipe . Actually, that's even easy, because water just flows from the tap – and luckily we have that in the Netherlands. Hip hi!
banana butt
And now the banana butt… does that work? We haven't tried it ourselves yet, but judging by the video and the reactions, the starches ensure that the spring roll wrappers stick together well. Huang's spring rolls come out of the airfryer beautifully brown!
Someone rightly asked if the spring roll tastes like banana. According to Huang you can taste it very occasionally, but it is never overwhelming.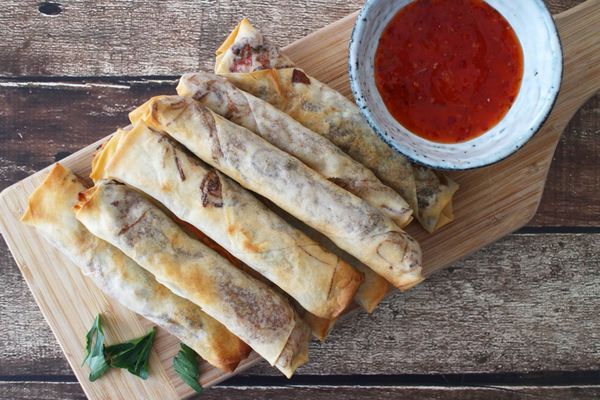 Spring rolls in the Airfryer
Huang has another handy tip for spring roll fans: once the batch is baked, you can easily freeze extras and leftovers. When you feel like a snack, all you have to do is take the spring roll out of the freezer and beep in the Airfyer. Thawing is not necessary.