We have described congee as one of our favorite comfort dishes for years. This savory Chinese rice pudding has all the features to help you cope with misery: warming herbs, savory stock and an addictive cream-like texture. Nevertheless, making them – according to the rules of the art – is still a trick. We'll help you get started with this trick.
And spoiler: the trick will save you time too.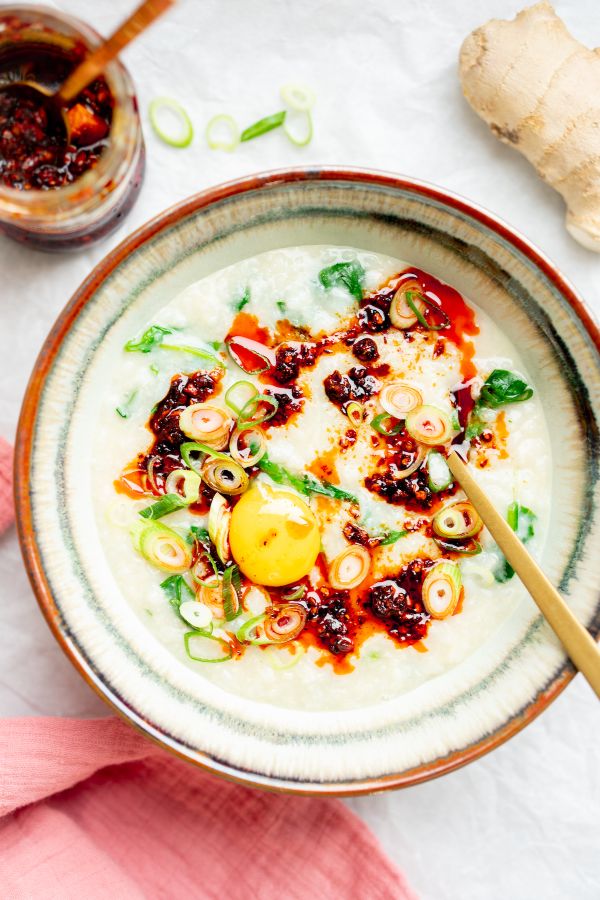 The best congee Anyone who knows congee a little knows: this dish takes time and patience. The trick is to cook the rice for so long that the rice grains will break down and a smooth porridge is created. In that respect, congee is a bit like risotto: another dish that cannot be prepared quickly.
Yet there appears to be a trick that not only ensures better congee, but will also save you time. Do we have an ultimate kitchen hack? We have.
Freezing rice
And that kitchen hack owes everything to your freezer. Because what happens? For the best congee, use rice that you have frozen ahead of time, uncooked that is.
All you have to do is rinse the rice well with water beforehand. Use a sieve to do this and then let the rice drain well. Then put the washed rice grains in a sealed freezer bag (or container) and put it in the freezer for at least eight hours. You can then use this rice to prepare your favorite congee recipe .
The science behind it
We see you thinking: why the hell? It is like this. Rice grains contain a little moisture. When that middle moisture freezes, it will expand and the rice grain will break. Where you normally have to wait patiently for your rice grains to break down by the warm water, these frozen rice grains are simply broken before you throw them in the pan.
You understand: with this you give yourself a huge head start in time. In concrete terms, this translates into congee that is on the table within 20 minutes. And if you know that congee is a typical sickness meal, then you know that this time-saving hack will give you an extra advantage on flu days. In addition, freezing rice also simply makes for tastier congee: with the frozen grains it is ten times easier to achieve the desired, silky texture. In short: wash some rice, freeze it and you have the feeling that you have your life under control again.
Fancy some congee?
Nowadays we see congee popping up more often in our food scene. For example, Janneke Vreugdenhil has a great recipe for low-carb oatmeal congee . And in the Antwerp coffee bar Rush Rush , congee with black tahini, shiitake, fennel and egg yolk is on the menu.
But don't worry if you don't get there so soon: you now know how to prepare it. Feel free to apply it to our recipe for congee with spinach and chili oil or congee with ginger, chicken and crispy garlic .