In the Netherlands we love potatoes in all shapes and sizes. From a puree , a gratin to a rösti or even croquettes. You can't really think of it that crazy and we make it with potatoes. We have been working for several years now with crispy potatoes from the oven and oven fries, because they contain much less fat than from a deep-fat fryer. And of course that's what you want most: healthy fries. But it doesn't go so smoothly, resulting in dried out or limp fries. Culy has the solution for real crispy potatoes from the oven and oven fries: rice flour.
It's so simple and gluten-free too .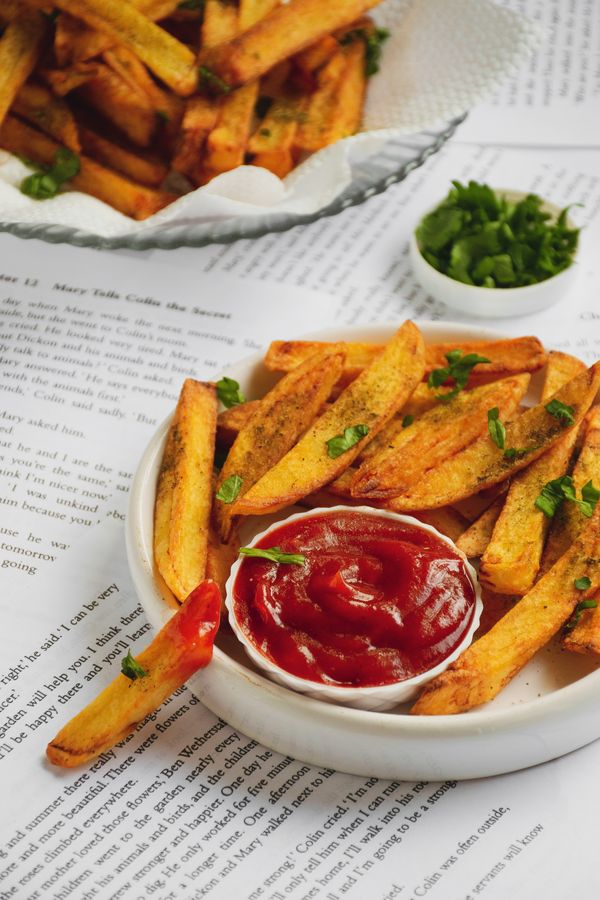 Crispy potatoes and fries from the oven
You have already mastered the ultimate baked potatoes and now you are going to make the next step: crispy potatoes and fries from the oven. You'll be surprised how easy it is, the oven does most of the work and you can take the credits at the table. All you have to do is make a coating (read: layer) of rice flour.
Preheat the oven to 200 degrees. Bring a pan of water to the boil.
Cut the potatoes into the desired shape, with or without skin, into wedges, slices, Flemish fries or French fries. Follow your heart. Add the potatoes to the boiling water and bring back to the boil. Once the water is boiling again, drain the potatoes. Pat dry with a tea towel or kitchen paper.
Mix the potatoes with (olive) oil in a bowl and toss well. Mix the rice flour with paprika powder (or chili powder for spicy fries) and salt. Roll all fries (or other shapes) well in the mixture so that all sides of the potatoes are covered, shake off any too thick layer of rice flour. Spread well on a baking tray with baking paper and put in the oven for at least 40 minutes, tossing the fries sometimes. And voila, crispy potatoes or fries.
Nice to know: rice flour is made from rice and is therefore naturally gluten-free, useful to know if you can't stand it! Rice flour can be a good substitute for wheat flour, but beware, because of the lack of gluten it behaves differently during the baking process. Good tips can be found on gluten-free.nl !
Got a craving for fries too?
Mitraillette (sandwich with shoarma, fries and vegetables)

Fries sabich: fries with fried eggplant and mango chutney

Umami fries with seaweed salt and black bean mayo