Burrata is life . We dare to make that statement with certainty, because who doesn't like this creamy pearl from Italy? To stir up the love for the ingredient, we give tips to use burrata in ways that you might not think of yourself.
This is how you can also use burrata
1. Make it stracciatella
Yvette van Boven tips in Home Made Basics how to transform burrata into stracciatella. That is crackling fresh cheese without a shape or crust, but with very finely chopped pieces of curd in it. By mixing 1 ball of burrata with 2 tablespoons of buttermilk and 50 ml of whipped cream and a pinch of sea salt, it tends to be more like stracciatella in taste and texture. That is delicious, for example as a dip with grilled vegetables, pasta sauce or on flatbread.
2. Fry your burrata in a crispy crust
Have you ever breaded burrata in a panko jacket for frying? No? To do! Admittedly, there's something decadent about it. But sometimes you have to. "You must be able to glide through life a bit, right?" Lekker Fred would say.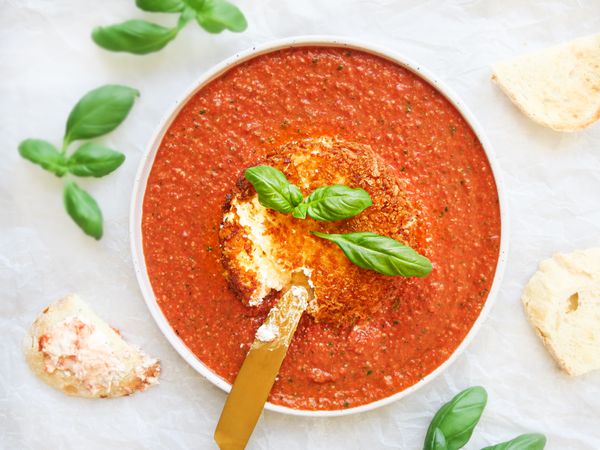 3. Use burrata in desserts
Chefs have known for a long time how well burrata lends itself to desserts. The cheese serves perfectly as a creamy base for grilled fruit and meringue, for example. Also a good idea: make ice cream out of it.
4. Use it instead of feta with the TikTok pasta
Remember that pasta that almost exploded on TikTok? In the basic recipe, it is made with feta, which is stirred into the pasta as a creamy substance. You can of course also apply this principle with burrata, especially if you find the taste of feta a bit too sharp. How nice does that sound?