Tuna is one of the most expensive, but also most popular fish species. We think it's delicious raw (for example as sashimi , through sushi or with a poké bowl ), but we can't resist a piece of tuna fried as if it were a steak. We give you tips for the perfect tuna steak. 
Before we continue, a disclaimer: tuna is overfished. Although there are dozens of fish species in the tuna family, their capture remains a major problem. For example, the tuna is not only in danger of extinction, but the tuna catch is also accompanied by (too much) bycatch.
Keep this in mind when buying and consult the Fish Guide  for more information, such as where the fish comes from and how it was caught. For example, bluefin is  off limits and it is best to avoid fish caught with longlines and purse seiners.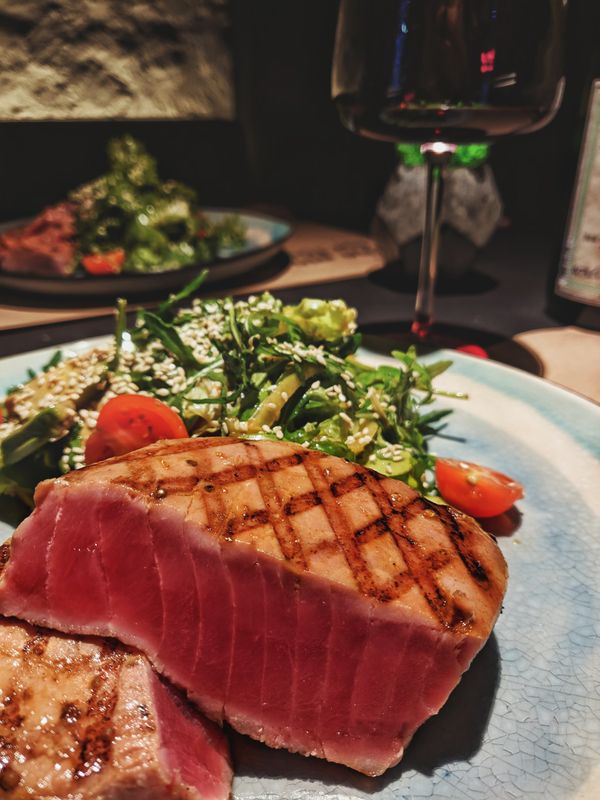 Making the perfect tuna steak
As with a steak, it is important that you remove the tuna from the refrigerator before cooking. Don't do this too far in advance, about half an hour. This allows the fish to cook at the right temperature (which will eventually cook it more evenly), but it will not spoil either. Keep in a cool place of course.
You can fry the tuna in the frying pan or grill pan . The biggest difference is that with a grill pan you have to grease the fish yourself and with a frying pan you can also pour a dash of olive oil into the pan. Make sure the pan is hot.
Tuna steak seasoning
Season the tuna in advance with a pinch of salt, pepper and other seasonings as they can burn quickly. Are you making an Asian version? Then you can dip the tuna in the sesame seeds and fry it over low to medium heat so the sesame doesn't burn.
Then fry the fish in the pan and try to leave it as much as possible. As a result, it cooks evenly, you get nice grill marks if applicable and the meat remains nicely intact.
Bake briefly
Turn the fish over after a few minutes, depending on how cooked you want it and cook for a few more minutes. Tuna is best when you fry it briefly, otherwise it will quickly become very fishy.
Serve the tuna with just a lemon wedge and some freshly ground pepper, with a salad or pasta with garlic oil, with some potatoes or simply sliced ​​as a snack. For extra taste you can use some soy sauce, possibly mixed with a drop of sesame oil, wasabi (mayonnaise) and pickled ginger. Enjoy your dinner!
For the real tuna lover
Love tuna and looking for more delicious recipes? Make your own tuna salad  or use it in a delicious quiche . And have you ever thought of investing your papadums with it ? A guaranteed success on the table!
Of course you can also prepare it in a different way. This is why you should poach fish in milk . Add some wine? You want to toast with these sparkling wines !