Deglazing may sound like something fancy that only happens in restaurants, but you can do it very well at home too. Deglazing is nothing more than loosening the 'burnt' pieces of vegetables, meat or fish in the pan by adding moisture. This gives your sauces extra flavor, instead of losing it.
flavor bombs
When frying a good piece of meat or fish, we find nothing more delicious than the bits that remain in the pan. To the untrained eye, this may look burnt – and therefore inedible – but we know better. And now you too!
These burnt pieces contain most of the flavor of what you have just caramelized in the pan. By adding moisture, you cook these flavor bombs loose and they are included in your sauce or soup.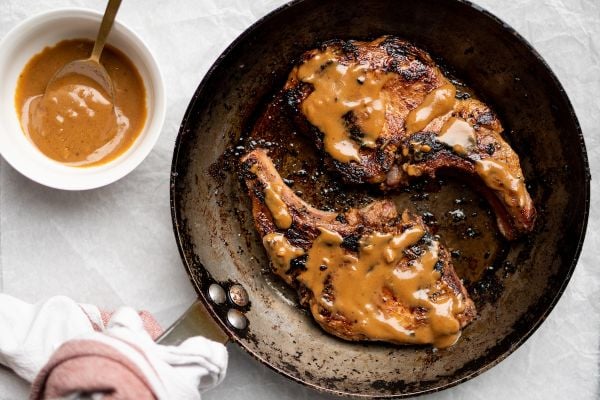 Deglaze: how do you do that?
You have probably deglazed a pan without realizing it. Just think of risotto being deglazed with white wine before adding the stock. Or a pan of mussels or vongole, where you first deglaze the pan before the shells steam open in the wine.
In principle, deglazing can be done with all types of moisture, with wine being the most commonly used. But water, stock, beer, sake or even a thin tomato sauce can all be used to release the last flavor.
Classic French dishes often call for white or red wine. If you make stew , it can be nice to deglaze your pan with a bottle of dark beer.
Sake can sometimes be used to extinguish in Asian dishes, for example with these mushrooms . For an extra full sauce you can also use whipped cream for deglazing, as in this recipe .
If you use an alcoholic drink to deglaze the pan, you can assume that the alcohol will evaporate. If you want to deglaze the pan or roasting pan after frying a large piece of meat, you may have to remove the fat that has floated to the top. Otherwise, things can get really messy.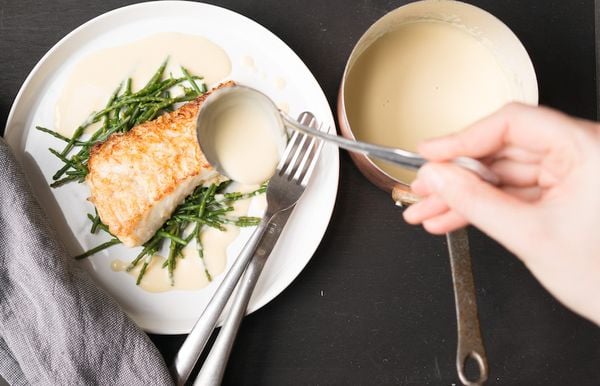 Perfect pan sauce
Whatever piece of meat you're cooking, the perfect pan sauce is created by following four simple steps. First, fry the meat in neutral oil with a knob of butter. Turn on the extractor hood, because searing is done in a very hot pan. Make sure the meat is nicely browned and crispy before removing it from the pan to rest.
Then add seasonings, such as shallot, garlic, peppercorns, mustard seeds, or whatever goodies you have at home. This can be done on a slightly lower heat, until the shallot and garlic are soft and you can smell the spices.
extinguishing
Now get ready for deglazing, luckily all you have to do is open a bottle or prepare your stock or sauce. Deglaze the pan with wine, for example, and let it reduce to about half. You can also add fresh herbs such as thyme, rosemary or sage at this step.
To make your sauce really like the one in a restaurant, add a knob of cold butter at the end. This binds the sauce, making it softer and thicker. This skirt steak with perfect pan sauce is one of our favorites.
More handy cooking tips:
Cleaning hack: this is how you clean a pan with a non-stick coating

No more thick lumps of cheese in your pasta, thanks to these tips

These tips make croutons even tastier