It may have something to do with Ottolenghi, but we have a little pomegranate addiction in the meantime. The only disadvantage? That miserable process of peeling a pomegranate. Yet apparently that does not have to be a hassle, thanks to these tips.
Of course you can also opt for ready-made pomegranate seeds. But not only are these a lot more expensive for what you get, they also taste less fresh. Finally, the seeds from a fresh fruit simply look nicer than those from a bag, which is also not unimportant for an ingredient that is often used for finishing dishes (and its looks).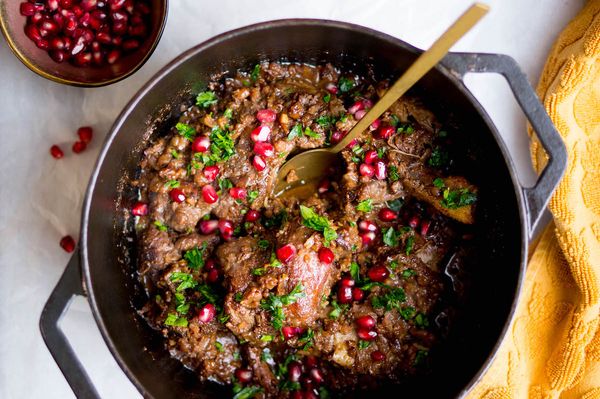 Peel pomegranate according to the rules of the art
So so. How does it work? Recently we came across a video on Instagram in which peeling pomegranates seems very logical. It goes like this:
Cut a square around the crown of the fruit with a knife. Don't cut too deep: keep the thickness of the skin (which is about half a centimeter) in mind and try not to cut deeper than that.

Take that square off. You should now see very well the membranes that divide the fruit into compartments.

Cut slits in the skin with your knife where the membranes are.

You should now be able to separate the different compartments from the membranes. The middle piece remains and you can just throw it away.

You can now easily peel the hard skin off the pomegranate seeds.
Check out the video we're talking about below:
Catching pomegranate seeds
Tip: did you cut your pomegranate as described above? Store the different compartments in a container for later use. They stay good in the fridge for a few days and when you need them, all you have to do is break open a wedge with seeds.
We find the best way to collect pomegranate seeds using (running) water:
Place a strainer in the sink. Also have a container ready for white pieces that you don't want to use.

Run a trickle of water and break open the pomegranate piece with your fingers.

Collect the seeds in the sieve, sort the white pieces in the container.

Do some white pieces end up in the sieve? Fish it out afterwards, it's that easy.
And now: let's cook! For example , make salmon with a herb crust and pomegranate seeds . Or lamb meatballs with labneh, pomegranate and mint . This Persian nut stew (Fesenjan) with chicken and pomegranate is equally delicious . In short: plenty of choice.