When a perfect pithivier or wellington rolls out of the oven, we feel more artistic than ever. Golden brown, shiny and look at those lines! Pastry with cachet; it is a true art form that also happens to be edible. Are we lucky. How do you master the tricks of the dough trade and make such a work of art yourself? Culy figured it out for you: this is how you carve dough like a pro. 
Signature in the dough
Cutting dough is not only pleasing to the eye, it also has a function. With a notch you actually determine where the dough opens and how much your dough can rise in the oven. The cutting surfaces act as a kind of chimney from which steam can escape. Hot air expands and allows your dough to rise in the oven. At least, that applies to bread dough. For pasties, the notching is mainly decorative.
Chefs put a kind of signature in the dough by means of incisions so that you can better recognize and appreciate their creations. In addition to notches, they decorate the pasties, such as a wellington , croûte or pithivier , with carved figures or wickerwork. For the latter you need a little more patience. Dough gets hot if you touch it too much with your hands, which can cause it to tear. Making notches is actually the easiest technique. But how do you do that best?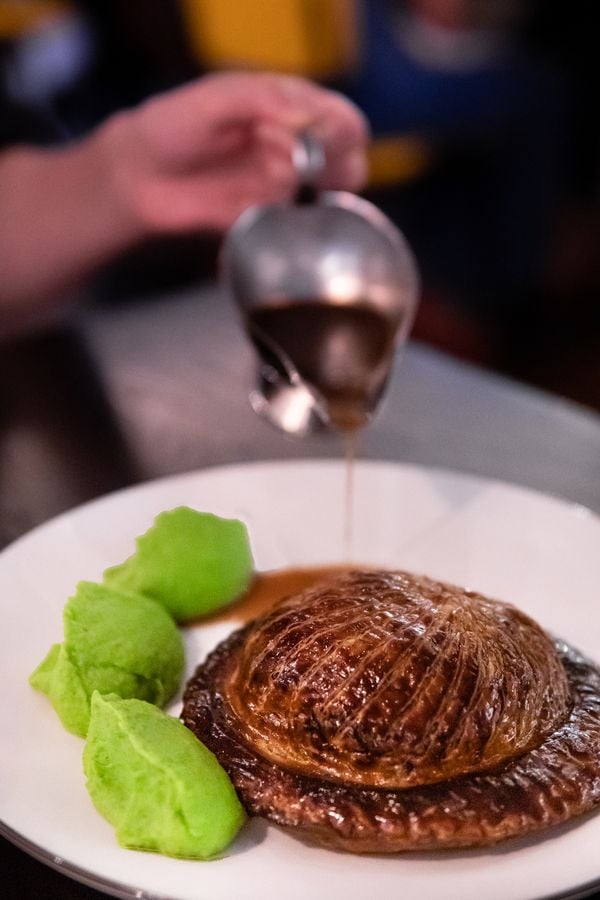 Carve dough nicely: tips & tricks
egg yolk
First make sure your pastry is brushed with egg yolk, which provides color and shine. The yolk must first dry before you can make the cuts. This can be done, for example, by putting the pie in the fridge for a while. You will see that the egg yolk is then partly absorbed by the dough. It gets a bit dull.
Tools
Now we can start with the notches. You use a touring knife for that. A touring knife is characterized by a curved, saber-like blade of 5-7 centimeters. Watch out for the tip, because it's razor sharp. This knife is a great tool to finish the pie nicely, but you can also go a long way with a potato peeler. You could also use a sharp (bread) razor blade , also called a lame.
Direction
Often you cut the dough from top to bottom. You make, as it were, a long stroke in one smooth movement. It's like 'pulling' the knife down. If you want to score the dough all around, it can be useful to put the pie on a turntable. That works just a little easier.
How deep should you cut?
Not too deep! Otherwise you will make a hole in the dough and the filling will run out. So you don't cut the dough all the way in. It's like writing on it with a pen: that's the perfect pressure. The amount of notches doesn't matter that much, as long as you make sure you don't puncture the dough.
Also watch this video by chef Timo de Beurs of restaurant Slagerij de Beurs in Amsterdam, in which he explains step by step how to make an elegant British pie in a shortcrust pastry.