From Indonesian nasi goreng to Thai khao pad: the base (and the translation) comes down to the same thing: fried rice. We've really never met anyone who doesn't love it. And should that happen, we will lovingly convert this person with one bite of perfection. Because although it is often thought that this is one of those dishes that anyone can make, nothing could be further from the truth.
The perfect fried rice is not too wet, slightly crispy and has a perfect ratio of rice to other ingredients. So keep this list of dos and don'ts handy the next time you make your own fried rice. Brace yourself for a one-way ride to the heaven of fried rice.
Do's when making fried rice
Use the 

right rice

 . The base where things can already go wrong. First of all, forget all the recipes that say you should use brown rice: an insult to the 

legend

 of rice dishes. Depending on the type of fried rice, several options are available: jasmine rice or pandan rice, medium-grain white rice, basmati rice, or even Japanese short-grain rice. One just makes it harder for you than the other. For example, jasmine rice (our favorite) has a somewhat stronger taste, so it flourishes best with a handful of other ingredients. Basmati rice has less taste and a drier structure and Japanese rice requires a little more patience because it sticks a bit more, but in return there is a delicious bite.

Always wash your rice

 . This removes a layer of starch, which ensures indispensable lightness and less sticky frustration.

Start 

on time

 . We know, fried rice often expresses itself as an acute need. Still, 'old' rice is the best basis when you make your own fried rice. So always cook extra rice and store it in the refrigerator for emergencies. Can't hold it any longer? Then spread your rice on a baking tray and put it in the fridge for as long as possible until ready to use.

Rice plays the main role

 in fried rice , enhanced by a small group of indispensable extras (including garlic!). Make sure that these other ingredients are cut into small pieces.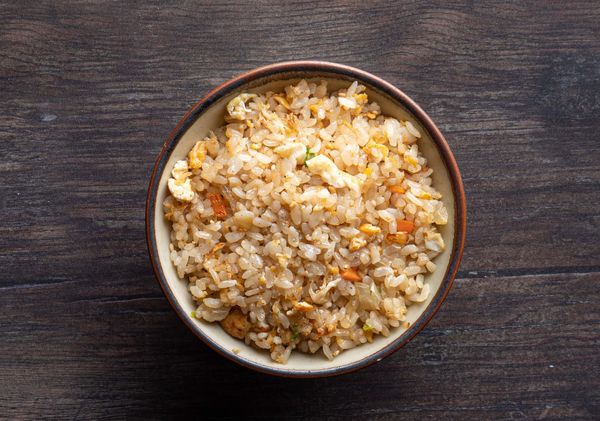 You could feel it coming: an 

egg is indispensable

 in a good 

fried rice. 

Slide the rice aside and fry it gently in the same wok, or fry it separately in a fragrant garlic oil.

The regular 

Kikkoman soy sauce

 is allowed if you have nothing else at home, but 

light (Chinese) soy sauce

 is even tastier. Or a little sweet soy sauce in the case of 

nasi goreng

 .

Essential addition regardless of the type of fried rice: 

spring onions

 . Slice them diagonally and add at the very end for a fresh twist.

Whatever you do, 

keep the heat in

 . It provides a 

crunch

 and prevents a soggy whole.

Use oil with a 

high smoke point

 to avoid a burnt taste.

Avoid last minute stress while the wok is on high heat: cut everything in advance and have 

the ingredients ready

 .
Don'ts when making fried rice
Whatever you do, never use 

fresh warm rice

 . Because: wet, soggy, wok angry, you angry, in short: everyone disappointed.

Never let your remaining ingredients overshadow the rice in quantity and cut. They can already be happy with a place on the podium of fried rice.

Do not use brown rice. We'll just say it again.

Don't go and stir like a crazy KitchenAid. Spread it evenly over the pan and 

give it time

 to get crispy.

We use soy sauce for 

taste

 , not color. Too little can always be repaired, too much is the end of the story.

Do not fry 

in butter

 (because there is a risk of sticking), or oil with a predominant taste.

Avoid 

the non-stick pans

 if possible.
Fried Rice Recipes
Khao Phad Neua (Thai fried rice with beef, leek and tomato)

Filipino Sinangag (garlic fried rice or garlic rice)

Ready super fast: kimchi fried rice