Crispy fried onions: we live for them. On the noodle soup, on the chicken salad, as a crunchy topping on a chicken burger or a hot dog : in our opinion they are indispensable. And homemade, they are even tastier than ready-made from the supermarket. We have a super tip for all enthusiasts: you can also easily make fried onions in the microwave.
Making your own fried onions isn't difficult at all (and you're left with divine shallot oil as a bonus), but you should let them fry gently in hot oil for about ten minutes. Life is therefore even a bit better if you just let your microwave do its work. Because it is really possible: make fried onions in the microwave.
Making fried onions in the microwave
The Serious Eats website reports that this is because shallots (and garlic, for that matter) have a porous texture. Combine that with the even heat that your microwave distributes, and thinly sliced ​​shallots will fry crispy in the meekrowahvay at lightning speed (as Nigella Lawson jokingly calls the microwave, you know that again).
I-de-al because you can leave your stove completely to the left and you can also make a small amount of fried onions with it in no time. Great for a quick salad for example.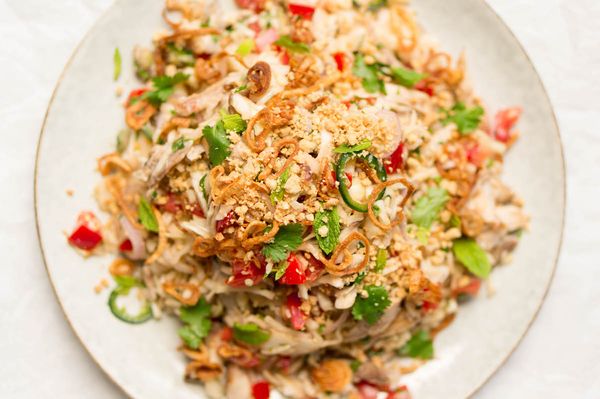 That's how you do it
All you have to do is place thinly sliced ​​shallots (or garlic) in a small bowl with some sunflower oil. Place the bowl in the microwave, set it on the highest setting and let it heat for 5 minutes. Stir briefly and then let the onions heat for an extra 1 to 2 minutes and stir them constantly, just until they are nicely browned.
Remove the fried onions from the oil and let them drain on some kitchen paper, where they will dry up until crisp. It's nice if you sprinkle them with a little salt right away.
> Then sprinkle them liberally over this Asian chicken salad .