Now that the Netherlands has started vegetable gardens en masse, we are often left with an excess of fresh garden herbs. And even if you don't have a vegetable garden, you somehow always have some leftover fresh herbs in the fridge. One of the tastiest and simplest tricks to use up your fresh herbs right away is to use the leaves as if they were lettuce leaves. Because a salad based on fresh herbs is delicious!
Butterhead lettuce, iceberg lettuce, lamb's lettuce… Even the biggest salad lover has to admit that these leafy vegetables have little taste by nature. Fresh herbs, on the other hand, have that much more. So why not use it as a base for a salad?
Using soft, fresh herbs
Use soft-leafed herbs, such as oregano, mint, basil, tarragon, dill, flat-leaf parsley (curly parsley can be a little sharp or hard), chives or coriander.
Hard(er) herbs such as thyme, rosemary or bay leaf are not good to eat raw, so it is better to save them for stews. Remove the leaves from the stems just before you use them, so they stay nice and fresh for longer.
Eating stems: yes or no?
The stalks of mint, coriander, parsley: can you actually eat them or not? As a rule of thumb you can say: you can eat soft stems, but not hard stems.
Sage, oregano, thyme and rosemary are examples of hard stems. You can basically just eat the rest, because they also contain a lot of flavor. Tip: chop the stems extra fine to avoid hard pieces.
Combine fresh herbs with lettuce
Do you want to mix the fresh herbs with lettuce? Then choose subtle lettuce varieties that do not yet have such a pronounced taste, such as iceberg lettuce, head lettuce, lamb's lettuce, little gem or lollo bianco.
You can also add fresh herbs to a bag of mixed lettuce, especially if it goes well with the dish. The main thing is that the taste of the herb fits well with the ingredients or cuisine of the salad. Below are a few examples.
Fresh herbs with Italian dishes
Do you want to make a salad as a side dish with Italian dishes such as pasta ragu bolognese ? For example, make a salad with little gem, tomatoes and Italian herbs such as basil and oregano.
Fresh herbs in classic salads
Remember that salad your mom used to make? With boiled eggs, cucumber and a white dressing from the bottle? Make your own modern with a soft-boiled egg, a homemade dressing and pickled cucumber. Herbs such as dill and/or chives are very tasty with this.
Fresh herbs with seafood salads
Fancy a seafood salad? Mix finely chopped iceberg lettuce with a variety of seafood, mayonnaise dressing with lots of tarragon and dill. A complete flavor explosion.
Salad nicoise 2.0 (with herbs of course!)
A Nicoise salad is a real classic, but you can give it just that little bit more by adding a good handful of oregano and chives. This provides an extra crunch and a wonderful scent.
Salad with lentils and goat cheese
Head lettuce with lentils and goat cheese is very tasty, but very basic. You give it an extra edge and taste if you add finely chopped mint and basil.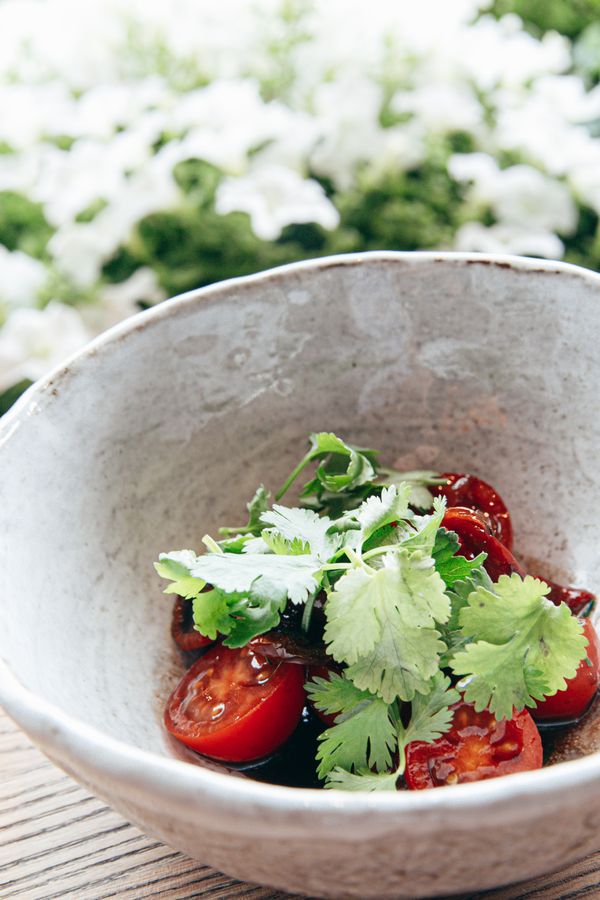 Fresh herb salad (only herbs)
You can actually use fresh herbs in all salads. You can even just take herbs and make an herb salad out of it. Ottolenghi likes to use this technique, just look at this soft herb salad .
But for the beginners among us, we can also mix head lettuce with those leftover herbs in your fridge. Adjust the rest of the ingredients accordingly. And then it automatically becomes the most normal thing in the world to do!
Tabbouleh
Tabouleh is a wonderful example from Middle Eastern cuisine where a lot of herbs are already used in the salad. The herbs are actually the salad, along with a little bit of bulgur. Tabbouleh is one of the most eaten salads in the Middle East and you immediately understand why. It is full of spice, crunch and fragrance. Mounir Toub 's tabbouleh is already on Culy, you can start preparing it right away.