Rice, rice baby! Are you also very hungry for rice every week? We do. And although we are not lacking in great rice recipes, the question always remains: how much rice per person should you actually use?
From risotto to congee or the scoop in a rice bowl: we list it(s).
Rice as main dish
Whether you make risotto, nasi goreng or Mexican rice : with these dishes it is very clear that rice plays the leading role. 75 to 100 grams is a good guideline here, depending on the dish and the other ingredients. Only if you really don't use that many other ingredients (such as with this lazy tomato rice with egg ), you can increase the number of grams of rice. That also applies if you are just really hungry.
Risotto
Risotto is normally full and creamy in taste because of the parmesan, white wine, stock and butter (if not, don't be surprised if you get pissed off by Italians). In most recipes, therefore, no more than 60 to a maximum of 100 grams of rice per person is counted.
Keep in mind that the more powerful the ingredients of your risotto (like a combination of 'nduja with burrata and pistachio: delicious but also a lot), the less rice you need. If the other ingredients are rather fresh (as in this tomato risotto with lemon and basil ), keep 100 grams.
Rice per person for nasi goreng
For nasi goreng, 80 to 100 grams of rice per person is a good measure. Where risotto is creamy, nasi goreng is naturally more fluffy and light – especially if you opt for a vegetarian version with (a lot of) vegetables and a squeeze of lime.
Here too, of course, the more greasy toppings (such as prawn crackers or an egg), the less rice you need in principle. Or stick to 100 grams for big eaters, 80 for smaller ones.
congee
And then we have congee: that delicious comforting rice porridge with Chinese roots. In our recipes we always opt for 95 grams per person. That is a generous portion, but congee is the type of dish you want a lot (and more) of.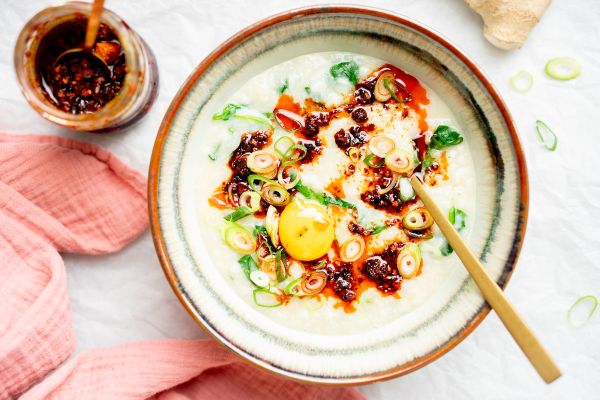 Rice per person as a side dish
Do you serve rice as a side dish with a piece of meat, fish or, for example, in a bowl? Then you can use 50 to 60 grams  per person. This is also an appropriate amount in rice bowls. We do this, for example, in this rice bowl with crispy tempeh and gochujang , in this summery poke bowl with watermelon or in this fresh Thai satay bowl with crispy tofu .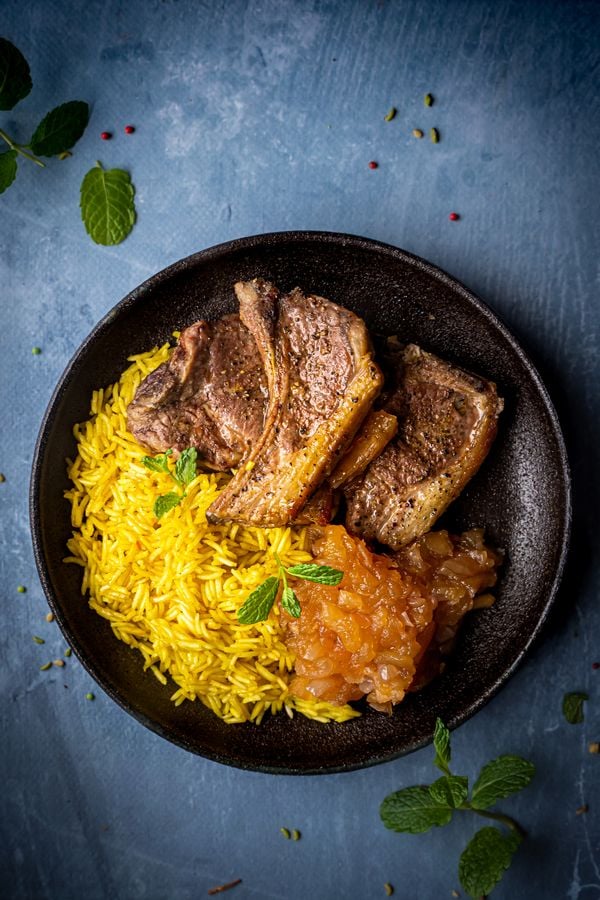 Our tastiest dishes with rice:
rice bowl with crispy tempeh in gochujang

Lemper ajam (stuffed rice rolls with chicken) from Toko Lo

lamb with apple chutney and saffron rice