Starbucks has long been shouting it from the rooftops : it's pumpkin spice latte season! Which in less hipster terms means, it's the age of hollowed-out pumpkins , pumpkin soup , and pumpkin pie . And what a shame it is to use the pulp for that, but throw away the pumpkin seeds?
Plus, roasted pumpkin seeds are a fantastic crunchy snack. And oh yes, healthy too.
Roasting pumpkin seeds in the oven is easy, but website The kitchn provides us with an even simpler way: the airfryer !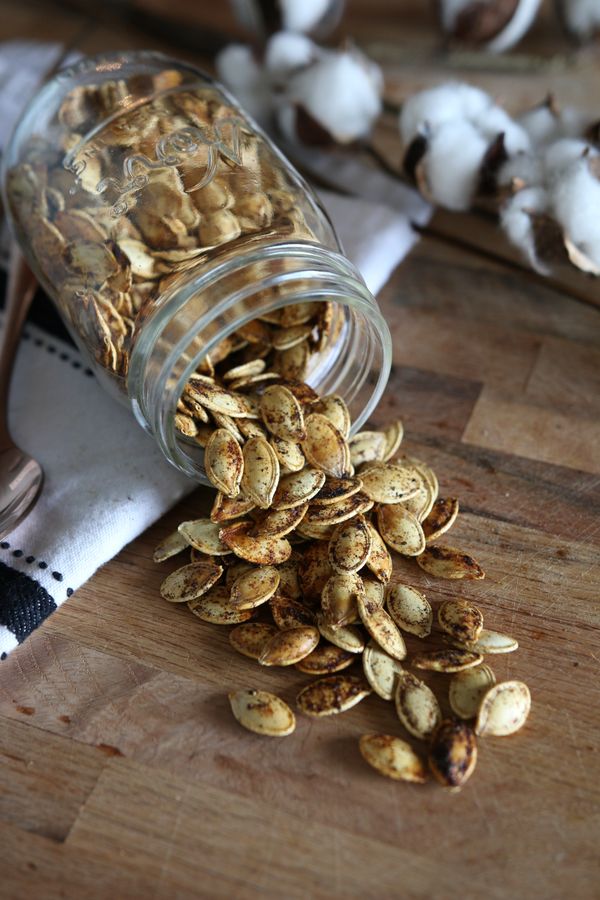 Roast your pumpkin seeds in the air fryer
The first step, of course, is to remove your pumpkin seeds from the pumpkin itself. This can be done quite easily with a spoon, but then there are often a lot of threads hanging on it. However, they should come off fairly easily if you put the kernels in a colander and hold them under running water.
If you only have the seeds left, pat them dry with a tea towel – they will become crispier. Then add a little oil (about 1 teaspoon) and season to taste.
Earlier we shared 5 different taste ideas for your roasted pumpkin seeds. For example, go for a spicy  mix of cumin, cinnamon and chili powder, or choose Middle Eastern with za'atar . Also very tasty and extra autumnal:  pumpkin spice mix!
Preheat the airfryer to 150 to 175 degrees Celsius. Don't go any higher, because then your pumpkin seeds will burn instead of being roasted. Do not you want to! Put the pumpkin seeds in the basket of the airfryer and put them in it for about 15 minutes.
Just like with nuts, it is important to regularly scoop / shake in between and to pay attention to whether they do not burn. Fortunately, you can easily see and smell that. Then take them out of the air fryer and let them cool down completely.
You can do this with roasted pumpkin seeds
That's it! The pumpkin seeds from the airfryer are ideal as a snack, but also as a topping on breakfast, salads and other dishes. For example, use them for these recipes:
warming oatmeal with grapefruit & pumpkin seeds
potato salad à la Ottolenghi (with tomatoes, chili and pumpkin seeds)

Salad of zucchini ribbons, ricotta and pumpkin seeds