It has happened to all of us: you feel like baking a cake or a load of cookies, but the recipe you have found is very large. You halve the baking recipe, but when you open the oven after a while, the cake turns out to be as flat as a dime and the cookies are not nearly as sticky as the recipe promised. Culy figured out how to halve your baking recipe without worry.
Halve basic ingredients
When it comes to water, flour, milk or sugar, it's not that difficult to halve. You can just use half of the indicated amount here. So 500 ml becomes 250, a liter becomes 500 ml and so on. Some calculations, but with a calculator but also an accurate (!) kitchen scale it will be fine.
The above numbers are of course easy to halve. But if you have to halve odd quantities, it's quite a fiddle. That is why it is wise to first put the entire amount in a bowl with a measuring spoon and then halve the number of spoons scooped.
Halve difficult ingredients such as eggs
If you are going to halve a baking recipe, you will of course also run into "difficult" ingredients such as eggs. Because going from four to two eggs often works out well, but if you have to halve one egg, it becomes difficult. Fortunately, there is a handy trick for this.
Always use the total amount of eggs, even if you are going to halve a baking recipe. Place the eggs in a bowl and gently beat them. It comes: only now you are going to halve. Pour the mixture into a bowl, put it on the scale and halve the amount of the egg mixture. With what you have left, you can make a tasty omelette.
Halve baking tins
Now that you've halved the ingredients, you may be wondering if you should adjust the oven temperature, the size of your baking pan, or the baking time as well. The answer is: maybe.
If you bake muffins or other things in small, special molds, you don't have to use a smaller baking mold. You already fill the molds to the appropriate amount, so you won't have any problems here.
However, if you are baking a pie or cake, also use a baking tin / cake tin that is half the size of the original recipe. Otherwise, only a very thin layer of batter will form in the mold, which will not have the strength to take off.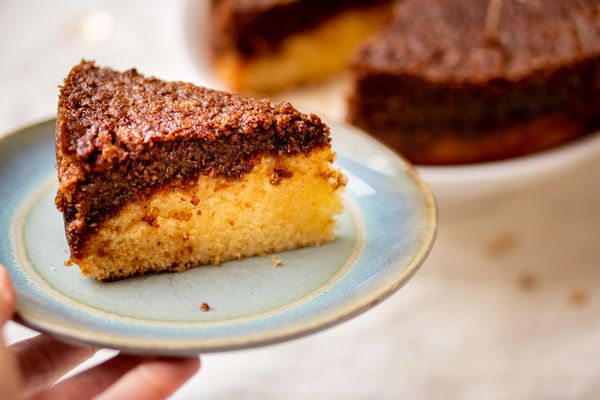 Halve the oven time
Your halved baking may be ready faster than the recipe states, but never assume half the baking time. Every oven is different and halving a baking recipe always turns out differently. Also, the oven time will not decrease very much, but certainly something.
Start with taking about 20% of the time. Place your baking in the oven and check how the baking is after the remaining time. Still not good? Leave it a little longer. It is important, especially if you have halved your baking recipe, to always keep an eye on it.
By the way, you only have to halve the oven time for baking in a large form such as cakes, pies and brownies. For muffins and other baked goods with a suitable baking pan, it doesn't matter how long they are in the oven. They are soon satisfied.