Frothing milk: we can write a book about it at the Culy editorial office. Sometimes our cappuccino foam is so lumpy that it claps in our face with the last sip, and other times the milk barely foams. That must be different! And that's why once and for all: this is how you get the best frothed milk for your cappuccino. Spoiler: It's actually pretty easy. Just look at these six tips.
6 tips for the best frothed milk
1. Always use whole milk
It may not be the most conscious choice, but it is the tastiest. A cappuccino with whole milk tastes significantly better than one with skimmed milk. Although skim milk froths well, it has large bubbles and stiff and dry foam. We don't want that.
Whole milk is creamy and soft and has the microfoam you want after frothing. Microfoam is the foam you taste when you think with a sip of cappuccino: "it's like drinking a cloud." Then it will be alright.
2. Always use long-life milk
Although opinions are divided on this – because fresh milk has significantly more taste and quality than long-life milk – long-life milk remains the favorite for creating a foam layer.
This is because long-life whole milk contains more denatured proteins. These bind more easily at higher temperatures, which ensures a stable foam.
3. Always use cold milk
We can't say this often enough, but always use cold milk. Don't leave it out of the fridge before frothing it, but put it in the fridge before then. If you don't use good cold milk, your milk will froth a lot less well.
Also, do not heat your milk before frothing. Your milk will then hardly foam up and will also have a strange taste because the temperature eventually becomes too high.
4. Do not heat the milk for too long 
Depending on what milk frother you use, it is important that you do not heat the milk for too long. That is why the milk must be cold. This way you give yourself a little more time in the foaming process. Do you use a coffee machine with a pump to froth your milk? Fill the milk carafe 1/3 full with cold milk, hold the steam pipe slightly below the surface of the milk and turn on the tap.
While you hear a hissing sound and the milk rises, move the pitcher down to keep the steam pipe below the surface at all times. When the milk is 45°C, the egg whites are 'whipped' and you can heat the milk a little more. You do this by inserting the steam pipe deeper into the milk. Stop when the milk is between 60°C and 65°C.
Do you use an 'automatic' milk frother? That's nice and easy. Then the machine regulates the temperature for you.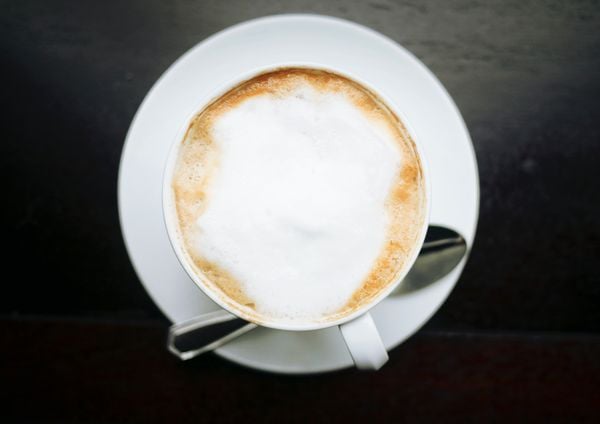 5. Knock out air bubbles
Do you see any air bubbles after frothing the milk? Then save it. You do this by tapping your milk jug flat on the counter or by doing the same with your milk frother. Always flat, otherwise you will have your milk everywhere.
6. Waltz, waltz and waltz
Once the air bubbles are gone, start rolling the milk. No, you don't have to dance with it, you just have to let it spin for a while. Shake your milk jug or milk frother in the round to create a whirlpool. This makes the microfoam smoother and makes it a lot easier to pour your latte art heart or dolphin.