Everything you always wanted to know about leeks, but were afraid to ask the greengrocer. Such as the difference between summer, autumn and winter leeks. What kind of treats you make with leeks, except for leek soup and leeks. The answer to the eternal welles-nietes discussion about the green of leeks. And why onion, and not leek, is the basis of just about every dish. Culy teaches you the do's and don'ts regarding the sweetest member of the garlic family.
Using leek green
If you look kindly at the greengrocer, the leek greens will be cut for you. Handy, because without those green tops, the leek fits better in your bag and you can store it more easily in the fridge. But isn't that actually a sin? Leek green is precisely the part of the leek with the most minerals and vitamins. So don't throw away the greenery, but make these three dishes with it. 
Make sure you clean the greenery well first, because there is often some sand and dirt in between. You also want to remove the outer leaves, they are   quite stiff, while leeks should be juicy!
1. More than soup
Soup green, it's in the name. Even cookbook author Vanja van der Leeden uses the green of the leek in the broth she prepares for her soto ayam in Insane . Of course, we only encourage making your own stock at Culy, but it can be a little more exciting.
2. Leek axis
If you scorch the greens a lot, a leek ash with a complex, smoky taste is created. At BAK , one of our favorite restaurants in Amsterdam, they served the ashes next to slices of warm sourdough bread. But it is also very interesting, for example, with a salad of raw cauliflower or other leek textures. For example, you can process leeks in one dish in three ways: raw, braised, and charred to ashes, and you don't have to throw (almost) anything away. 
3. Spice it up!
Stew or fry the leek greens with a fragrant olive oil. Then sprinkle a dukkah (Egyptian spice mixture with roasted nuts) over it to make a delicious side dish. Also a good idea: deep-fry the green leaves for a crunchy garnish. 
Three seasonal leeks
Leek ( Allium ampeloprasum ) is a plant from the garlic family Alliaceae, also called allium, and is available fresh in the Netherlands almost all year round. Even in early spring, when little else comes of the land, there is still winter leeks to be harvested.
This is possible because there are three types of leeks: summer, autumn and winter leeks. They don't differ much in taste, but you can imagine that a winter leek is thicker (to withstand the frost) than a young summer leek.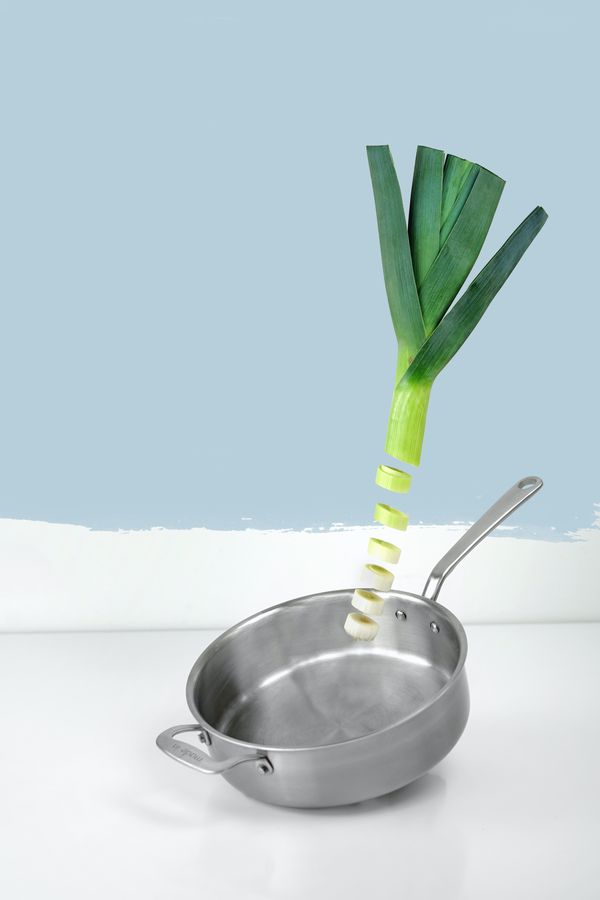 Wash leeks quickly
Maybe your mother also taught you to first remove the bottom of the leek and then cut it lengthwise so that you can rinse the dirt out under the running tap.
The problem with that method is that you always end up with half rings. Isn't there another way? Yep, here's the secret to squeaky clean leeks . You don't want to skip that step. Washing is very important because leeks like loose, sandy soil and carry that sand between their leaves as they (or is it a she or it?) grow upwards. 
cooking leek
Cooking leeks is very simple, but because the vegetables shrink during heating, it is important to use little water.
If you are not going to get started with soups and sauces, you can experiment with other cooking techniques. Throw leeks on the barbecue, for example, it will make it wonderfully soft with a smoky edge. You can do the same in the oven. You don't even have to use oil for it ( although oil is always a good idea )! Or stew the leeks over low heat in lots of butter with fresh herbs such as thyme and sage.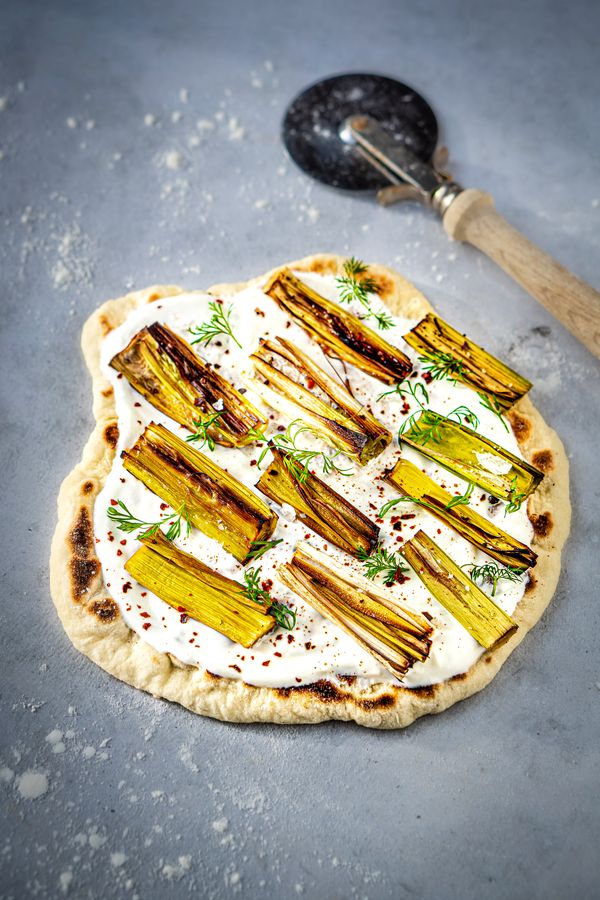 This is what Culy makes with leeks:
Flatbread with grilled leek, dill and chili

Leek with hazelnut and brown butter

Leek tacos with mujadara

Leek soup with fennel, apple and walnuts

Leek tarte tatin with miso caramel