Agood tomato sauce can completely stop us. One that is bursting with umami and with a perfect balance between savory, sweet and sour: underestimate delicious. If you want to make it yourself, you can of course always take a recipe with it, although you can just as well make it by feel. And with these tips for the tastiest homemade tomato sauce, that will undoubtedly work.
In any case, the message is: (a lot of) experimentation and continuous tasting while making it.
8 x tips for the best homemade tomato sauce
1. Don't shy away from the garlic
Rule number one: don't be stingy with garlic. We like to cut a few cloves into very fine slices and fry them in a generous layer of olive oil. Avoid that the garlic turns brown, because that will make it bitter. A low fire is the message here.
2. Add cool spices
And if that garlic is bathed in olive oil, you might as well add some other seasonings. Fennel seeds, chili, thyme, nutmeg and/or oregano for example. Be patient and give the spices a chance to release their aromas.
3. Use anchovies as salt in your tomato sauce
Tomato sauce with a salt? Don't reach for your salt shaker for once, but open a can of anchovy fillets. These small fish give your sauce not only more salt, but also umami and – of course – a bit of the taste of the sea. Yummy!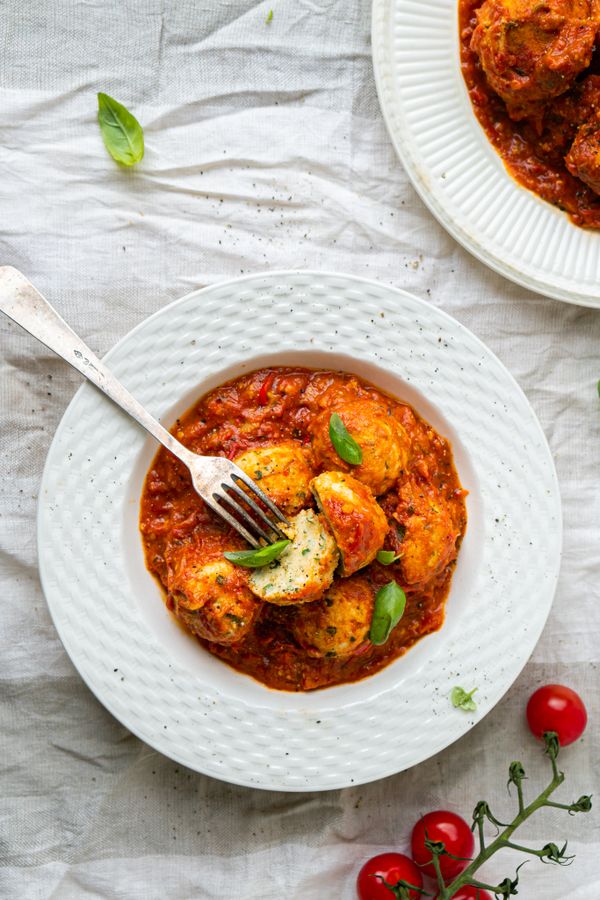 4. Take a look at your drink supply
Wine is a well-known seasoning for flavoring tomato sauce. But what applies to wine, also applies to other drinks. So feel free to look at what you still have at home and experiment with other (spirits) drinks. We have already tested this principle with vodka, rum and sake and the conclusion was clear: in all cases a dash of alcohol provides more depth and tension.
5. Use the right tomatoes
We probably don't have to tell you that there is a lot of difference in quality in tomatoes. For tomato sauce, we invariably choose San Marzano tomatoes : simply the very best canned tomatoes. These tomatoes are renowned for their delicate sweet taste, which is not sour at all (like some other canned tomatoes). Can't find it? Those canned cherry tomatoes from Mutti are also very tasty.
6. Add sweet to your tomato sauce
Enhance the sweet taste of the tomatoes? You can do this by adding a little extra sweetness yourself. With a spoonful of sugar, for example, or a little bit of honey. A squeeze of balsamic cream also works wonders.
7. Create depth with exciting ingredients
Want to give your tomato sauce even more personality? With a few surprising ingredients you can completely customize that sauce. Culy's Winnie, for example, likes to stir some crushed cocoa nibs into her tomato sauce, which adds depth. Pickled lemon (available in the SOUQ supermarket or at the Asian store) also makes your tomato sauce a lot more interesting. Or how about a spoonful of 'nduja ?
8. Never forget the fresh herbs
And finally: has your tomato sauce been simmering and are you ready to serve it with pasta, meatballs or something else? Don't forget to add some fresh herbs too. They make every dish tastier and fresher. Basil, parsley, chives, fresh oregano… Everything is delicious!