There are dozens of tricks to whip up a quick weeknight chicken soup, but not this time. This is the long road, without shortcuts and elephant trails. No packages and bags! We take our time for the very best homemade chicken soup. With these tips you can make a steaming pan that you can come home with (look grandma!), and stay at home. Comfort food at its most elegant. 
1. The bird
Psst, we've got a secret for you: use the whole chicken, it's what distinguishes a mediocre stock from a flamboyant chicken stock. It is best to use a depreciated (laying) chicken, or a soup chicken. But you can also look for individual parts – it seems as if we are in the garage – such as necks, wings, organs and possibly carcasses and bones. This has two advantages, because on the one hand it gives the chicken soup more flavor and you don't have to throw anything away. 
A tip we got from Sana Javeri Kadri, founder of the single origin spice brand Diaspora Co. is to keep all your chicken bones in a resealable freezer bag during the week, along with other leftovers such as onion skin and fennel tops, and to make a stock on Sunday. Sana adds turmeric, ginger, apple cider vinegar, fish sauce and dried mushrooms, leaving you with a 'really rich, umami, yummy broth' after 24 hours.
2. 
Different preparations
A tip from Bon Appetit is to treat the chicken breast and leg of a whole chicken differently. The breast should be removed from the stock earlier so that the meat does not dry out, while the chicken leg needs a little longer to become tender. In this video Molly Baz explains it step-by-step. 
3. Two kinds of fat in the chicken soup
According to Kardea Brown , host of the American program the Food Network, it is best to use a combination of butter and oil when frying the chicken. "The two types of fat really bring up the flavor," says Brown. By using butter you add a wonderfully rich flavor to the meat.
But the oil is just as important: due to the high smoke point, the oil ensures that the butter does not burn during the searing. Because that's the goal; trigger a Maillard reaction so that we are left with a nice brown fried chicken that gives its flavor to the soup. 
4. Don't forget the vegetables!
It's not all about the chicken. Vegetables need a lot more attention than you might think. It would be a shame to cook the vegetables all the way to a purée. How do you prevent that? Work in two phases!
Let a first batch of vegetables caramelize in the fat to give the stock extra flavor. Then take these vegetables out when they are completely cooked and add fresh vegetables so that they remain nice and crunchy. Good options are celery, carrot, but also think of fresh herbs such as dill, thyme, oregano and a few leaves of bay leaf. They give a spicy depth to your chicken soup.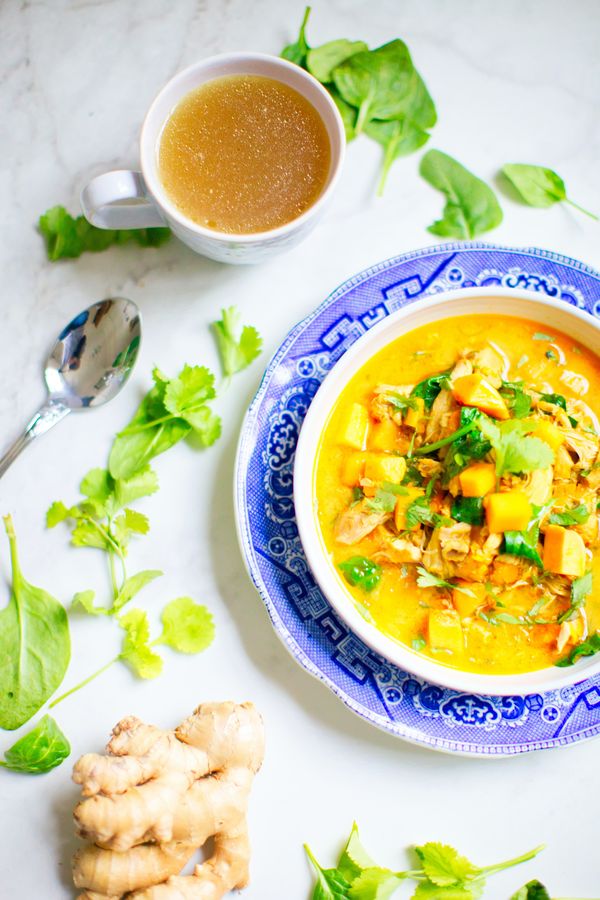 5. 
In moderation
Don't go crazy with the vegetables, otherwise your soup will taste too sweet. The hero must of course be chicken, otherwise you might as well make carrot-celery soup. A tip from chef Andrew Zimmern is to use 2 carrots, 2 onions, 2 pieces of celery, and some spices and herbs on 5.5 liters of chicken (especially the wings and neck with a lot of bone because that gives the most flavour). 
6. Quenching
Chicken soup is largely about water, but what if we told you that you can also replace some of the moisture with something with even more flavor? Think of a good splash of white wine, a lemon-ginger tea or a tea with turmeric. 
7. Chicken soup with Parmesan cheese
Do you have a piece of Parmesan cheese lying around? Then don't throw away the crust , you can just add it to the chicken stock, but also to a pan of risotto or a stew.
8. Use a rotisserie chicken
Nowadays you can buy super juicy ready-to-eat chicken from the spit. That's an extra easy way to boost the flavor of your chicken stock without too much hassle. Pick the meat of the chicken off the spit and add it directly to the soup (it couldn't be easier): those chickens are seasoned from the inside out and incredibly tasty.
You can even make chicken soup from leftover roasted chicken from dinner earlier in the week. In other words, you'll never have an excuse to throw away leftover chicken; in the chicken soup with it!