What is the shortest way to a lightning fast dinner? In any case, adding your wok is a first smart move. After all, your favorite vegetables and meat in combination with a tasty sauce in such a pan almost always make for a successful dish. But what are the best (homemade) wok sauces?
7 x tasty wok sauces
Tip: does your wok sauce consist of several ingredients? Always mix these in a bowl beforehand, and not directly in the wok itself. This saves you time and the ingredients automatically spread much more evenly.
1. Sweet chili
Fan of Thai-inspired pad thai-style dishes? Get out that bottle of sweet chili sauce . Although you may know it more as a dip for spring rolls, such a squeeze can also serve perfectly as a base for wok sauce. Tip for those who find sweet chili very sweet: balance the flavors by adding a few drops of fish sauce and/or fresh lime juice.
2. Teriyaki
Teriyaki is made with soy sauce, mirin (Japanese rice wine), sake and sugar: the protagonist in dishes such as chicken or salmon teriyaki . You can also generously use teriyaki with wok dishes. Because if you have the aforementioned ingredients at home, such a sauce is of course made in no time. Check out our basic recipe for homemade teriyaki sauce here .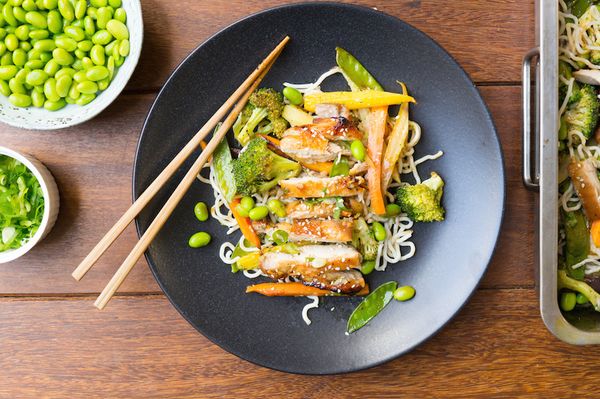 3. Black Bean Garlic
Remember when we paid tribute to black bean garlic sauce ? This paste of fermented black beans and minced garlic is a flavor bomb that instantly gives many dishes a serious lift. So are wok dishes. You buy the sauce ready -made and it is quite strong: starting with a spoon and then adding extra if necessary is recommended for that reason.
4. Hoisin
You know hoisin as that thick, syrupy dark sauce you get served with Peking duck. But also with rice paper rolls, on  wraps , as a marinade on your spare ribs, with pork belly, grilled vegetables, with dim sum or on a bao : hoisin sauce is a real seasoning. And you can already hear it coming: your wok dish also comes to life with a scoop of it. You can buy ready-made, but making your own is of course ten times better.
5. Lo mein sauce
Lo mein, that popular takeaway dish in Chinese restaurants, is a simple stir-fry based on stir-fried vegetables, noodles, meat or shrimp and a sauce. The Lo mein sauce used in this dish consists of a mix of soy sauce, sugar and sesame oil. It couldn't be easier, but try to buy the ingredients of good quality. After all: the fewer ingredients, the more important the latter becomes.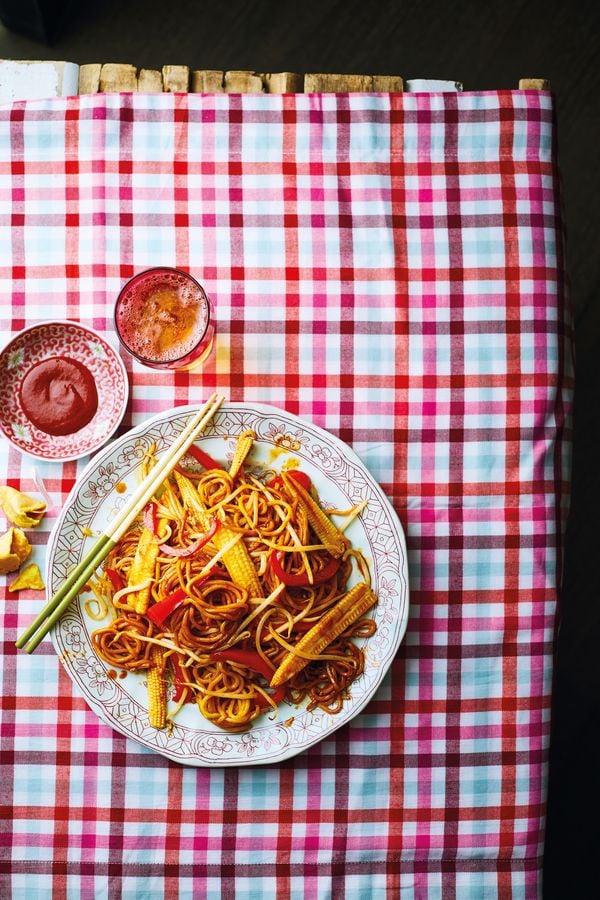 6. Kimchi-based wok sauce
A (wok) dish with more character in no time? Leave that to Kimchi. By mixing kimchi together with some neutral oil, rice vinegar and fish sauce in the blender, you create a super powerful sauce for your wok dishes. We wrote about it earlier in this article .
7. No sauce
Although the above sauces give off a lot of flavor (and we love sauces very, very much), you don't even need to add sauce to your wok. This is because the vegetables and meat often already release a lot of tasty juices. For that reason, some chefs choose to honor those flavors and keep the wok as pure as possible (and without sauce).
Do you want to test that, but do you notice that your wok is getting a bit too dry? The message is to add a few tablespoons of stock or water.